Nominations for the 2019 OVA-ies TV Animation Awards
By: Dylan Hysen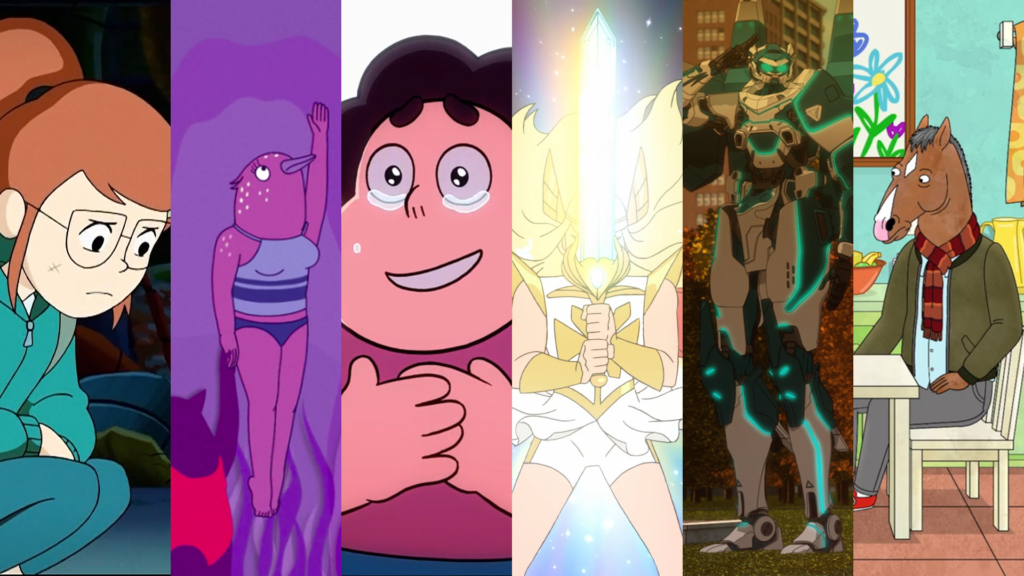 Here are the nominees for the 2019 OVA-ies Awards, celebrating the best in television animation from the year. Listen to the nominations announcement podcast accompanying this post and check out the nominations below!
Vote for your favorites in 7 categories. Winners are chosen 50% by an open vote, 50% from our internal community of patrons & staff weighed by shows watched. Nominees were chosen internally by our patrons & staff, and you can see the nominations below! Winners will be revealed in a podcast at the end of December.
Steven Universe leads with 6 nominations, one in every category it was eligible for. Followed by Tuca & Bertie and Infinity Train with 5 nominations, and She-Ra and the Princesses of Power with 4 nominations. gen:LOCK, The Promised Neverland, and RWBY had 3 nominations each.
Voting closes at noon on Sunday December 29th. Google sign-in is required for voting. Voting is anonymous, the sign-in is just required to restrict voting to 1 per person.
Best Animated Show of 2019
BoJack Horseman
gen:LOCK
Infinity Train
She-Ra and the Princesses of Power
Steven Universe
Tuca & Bertie
Best Animation Episode of 2019
"121045" (Episode 1), The Promised Neverland
"Change Your Mind", Steven Universe
"Cleaved", Star vs. the Forces of Evil
"The Jelly Lakes", Tuca & Bertie
"The Only Me I Know", gen:LOCK
"Remember", She-Ra and the Princesses of Power
Best Animation Main Character of 2019
Bertie, Tuca & Bertie
Glimmer, She-Ra and the Princesses of Power
Marinette, Miraculous Ladybug
Ruby, RWBY
Steven, Steven Universe
Tulip, Infinity Train
Best Animation Supporting Character of 2019
Amaya, The Dragon Prince
One-One, Infinity Train
Scorpia, She-Ra and the Princesses of Power
Speckle, Tuca & Bertie
Spinel, Steven Universe
Venomous, OK K.O.! Let's Be Heroes
Best New Animated Show of 2019
Carmen Sandiego
gen:LOCK
Infinity Train
The Promised Neverland
Tuca & Bertie
Undone
Best Visuals for an Animated Show of 2019
Carmen Sandiego
Hazbin Hotel
Love, Death + Robots
RWBY
Steven Universe
Undone
Best Music for an Animated Show of 2019
Carole & Tuesday
Hazbin Hotel
Infinity Train
The Promised Neverland
RWBY
Steven Universe
Podcast: Play in new window | Download
Subscribe: Google Podcasts | Spotify | TuneIn | RSS