Winners: 2019 OVA-ies TV Animation Awards
By: Dylan Hysen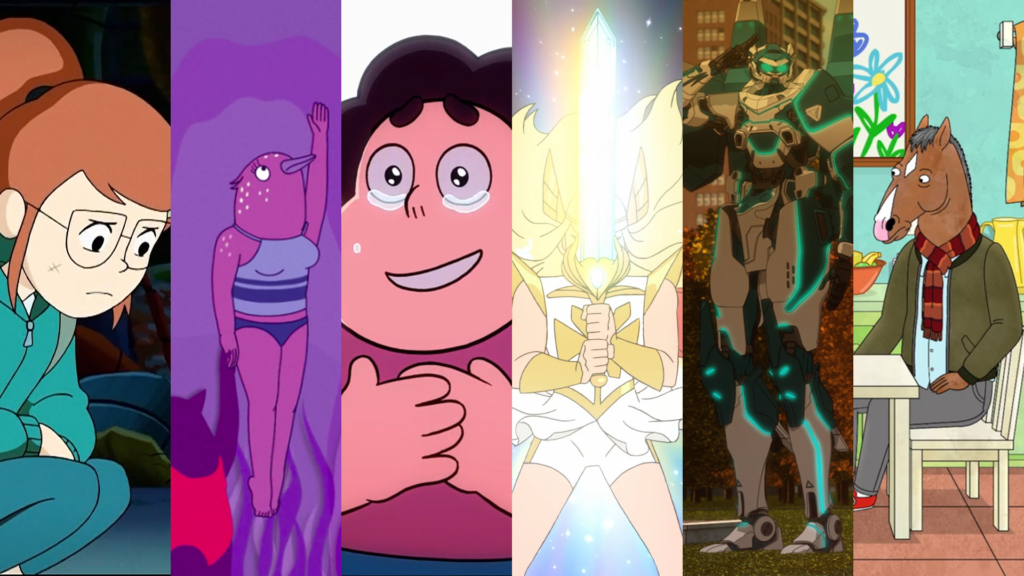 The results are in for our 2019 OVA-ies TV Animation Awards! After 645 votes cast, the winners in seven categories have been determined. Listen to the attached podcast to hear us announce the winners and analyze the results.
Steven Universe was the big winner of the night, taking home four of the seven awards, including the two biggest categories: Best Show and Best Episode. Infinity Train also had a big night with wins for Best New Show and Best Main Character for Tulip. She-Ra and the Princesses of Power won Best Supporting Character for Scorpia.
How the results were calculated: final placement was determined by an averaging of the percentages of the Open Vote and the Internal Vote of our patrons and staff, the latter of which was also weighed by number of shows watched in each category.
Best Animated Show of 2019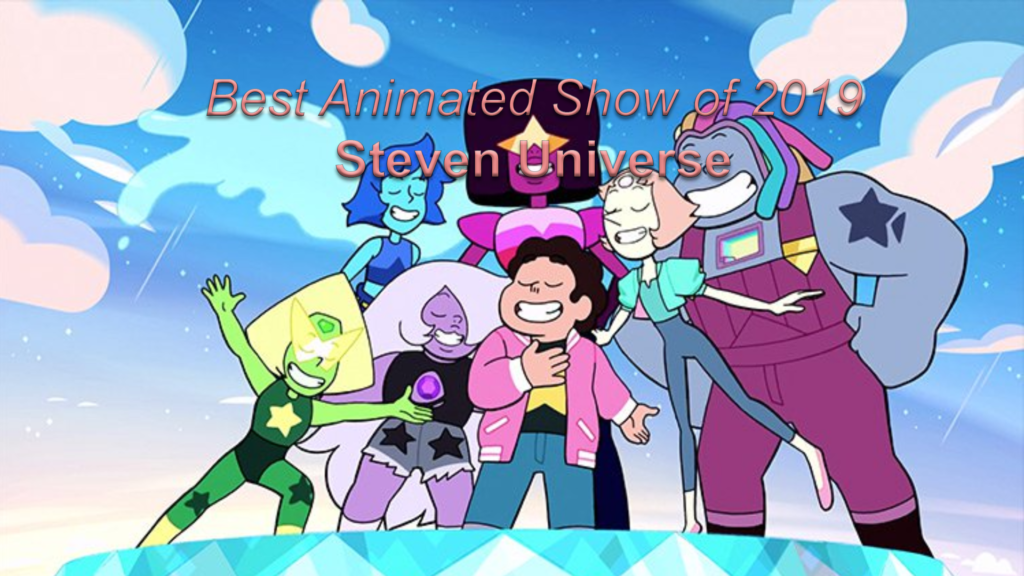 Winner: Steven Universe
| | | | |
| --- | --- | --- | --- |
| Show | Average% | Open Vote | Internal |
| Steven Universe | 38.27% | 38.90% | 37.63% |
| She-Ra and the Princesses of Power | 22.69% | 22.80% | 22.58% |
| Tuca & Bertie | 13.64% | 4.70% | 22.58% |
| gen:LOCK | 12.03% | 9.00% | 15.05% |
| Infinity Train | 8.03% | 13.90% | 2.15% |
| BoJack Horseman | 5.40% | 10.80% | 0.00% |
Past winners: 2018-Steven Universe; 2017-Rick and Morty; 2016-Steven Universe
Best Animation Episode of 2019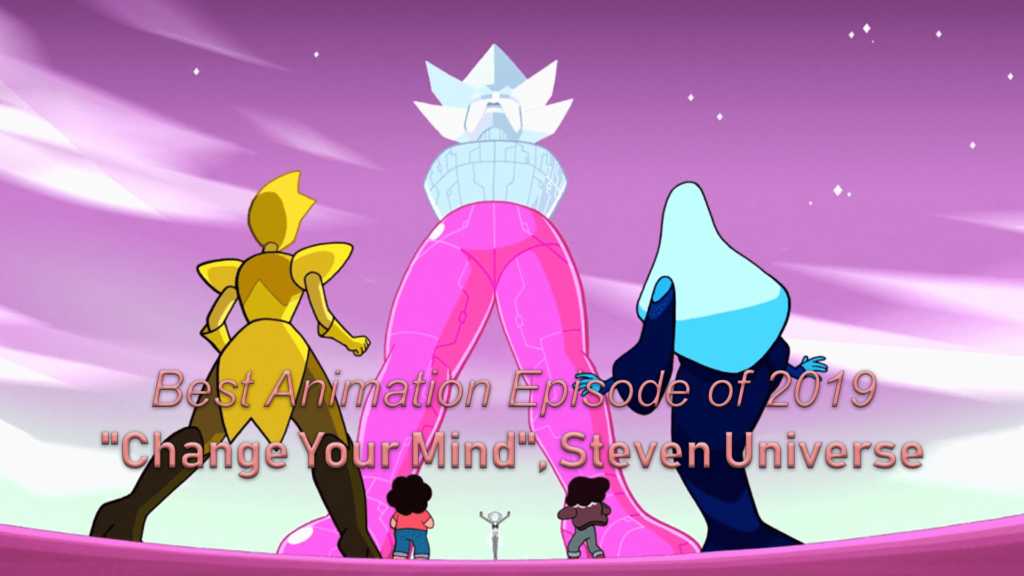 Winner: "Change Your Mind", Steven Universe
| | | | |
| --- | --- | --- | --- |
| Episode | Average% | Open Vote | Internal |
| "Change Your Mind", Steven Universe | 37.74% | 46.90% | 28.57% |
| "The Jelly Lakes", Tuca & Bertie | 20.90% | 7.10% | 34.69% |
| "The Only Me I Know", gen:LOCK | 14.43% | 10.50% | 18.37% |
| "121045" (Episode 1), The Promised Neverland | 12.13% | 11.00% | 13.27% |
| "Remember", She-Ra and the Princesses of Power | 9.95% | 14.80% | 5.10% |
| "Cleaved", Star vs. the Forces of Evil | 4.85% | 9.70% | 0.00% |
Past winners: 2018-"A Single Pale Rose", Steven Universe; 2017-"Tales from the Citadel", Rick and Morty; 2016-"Weirdmageddon 3: Take Back The Falls", Gravity Falls
Best Animation Main Character of 2019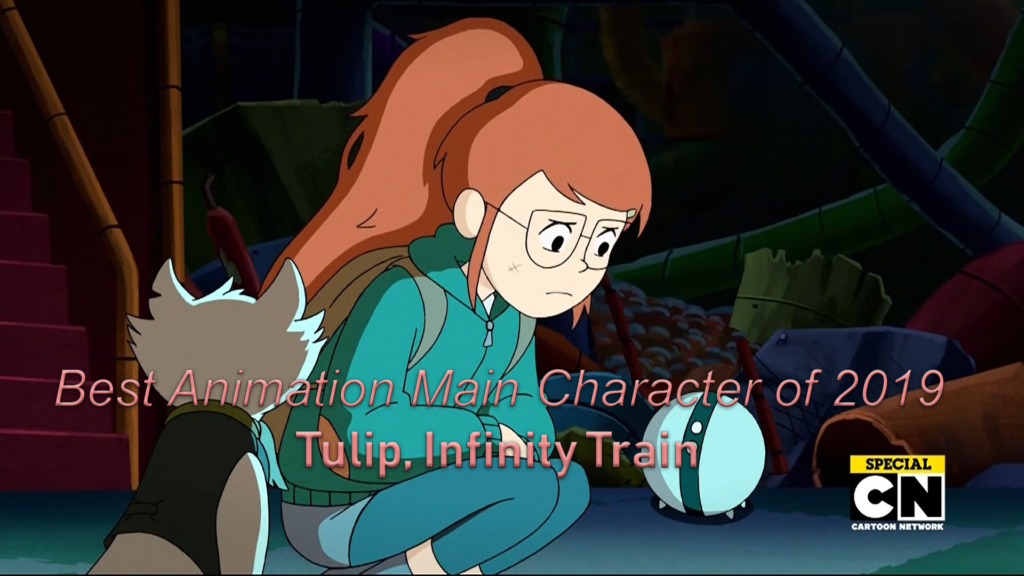 Winner: Tulip, Infinity Train
| | | | |
| --- | --- | --- | --- |
| Character | Average% | Open Vote | Internal |
| Tulip, Infinity Train | 28.05% | 15.90% | 40.21% |
| Steven, Steven Universe | 23.11% | 28.70% | 17.53% |
| Marinette, Miraculous Ladybug | 19.55% | 25.70% | 13.40% |
| Bertie, Tuca & Bertie | 13.31% | 6.00% | 20.62% |
| Ruby, RWBY | 11.31% | 18.50% | 4.12% |
| Glimmer, She-Ra and the Princesses of Power | 4.66% | 5.20% | 4.12% |
Past winners: 2018-Marinette, Miraculous Ladybug; 2017-Star Butterfly, Star vs. the Forces of Evil; 2016-Pearl, Steven Universe
Best Animation Supporting Character of 2019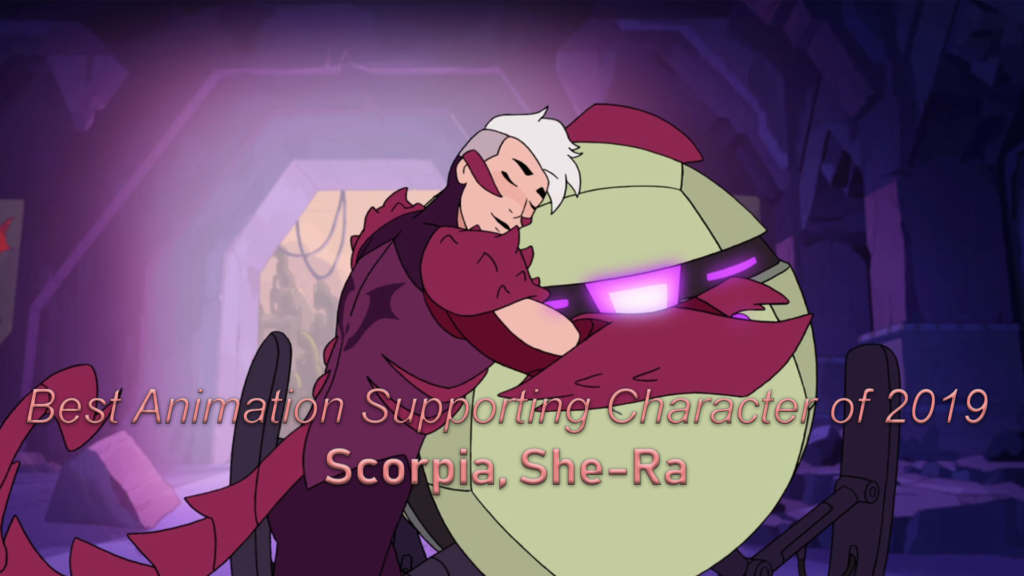 Winner: Scorpia, She-Ra and the Princesses of Power
| | | | |
| --- | --- | --- | --- |
| Character | Average% | Open Vote | Internal |
| Scorpia, She-Ra and the Princesses of Power | 41.65% | 24.20% | 59.09% |
| Spinel, Steven Universe | 22.71% | 35.20% | 10.23% |
| Amaya, The Dragon Prince | 12.20% | 15.30% | 9.09% |
| Speckle, Tuca & Bertie | 9.74% | 4.70% | 14.77% |
| Venomous, OK K.O.! Let's Be Heroes | 8.66% | 10.50% | 6.82% |
| One-One, Infinity Train | 5.05% | 10.10% | 0.00% |
Past winners: 2018-Lotor, Voltron: Legendary Defender; 2017-Diana Cavendish, Little Witch Academia; 2016-Peridot, Steven Universe
Best New Animated Show of 2019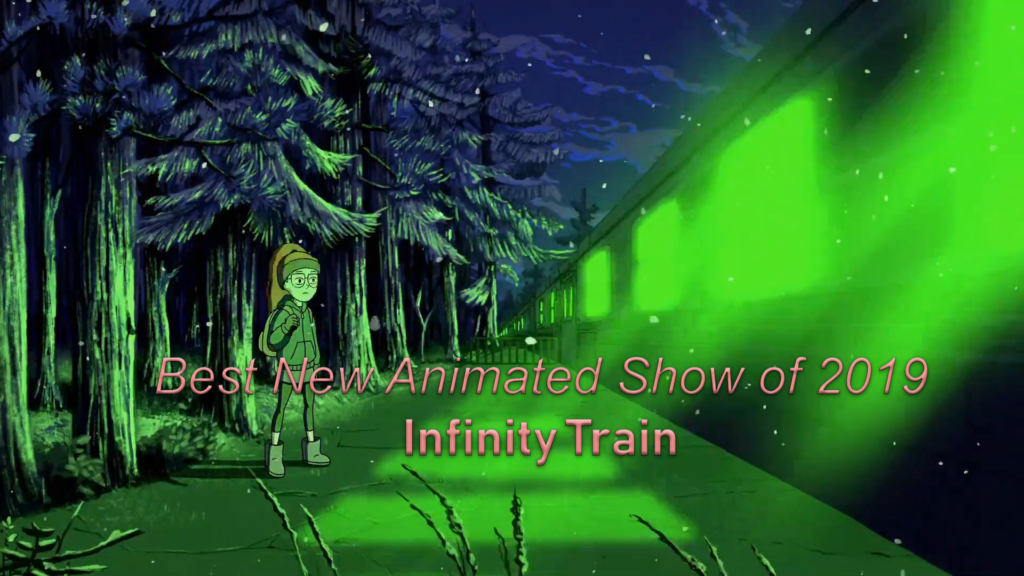 Winner: Infinity Train
| | | | |
| --- | --- | --- | --- |
| Show | Average% | Open Vote | Internal |
| Infinity Train | 32.28% | 40.20% | 24.36% |
| Tuca & Bertie | 18.13% | 11.90% | 24.36% |
| gen:LOCK | 17.77% | 16.30% | 19.23% |
| Carmen Sandiego | 11.01% | 15.60% | 6.41% |
| The Promised Neverland | 10.99% | 13.00% | 8.97% |
| Undone | 9.83% | 3.00% | 16.67% |
Past winners: 2018-She-Ra and the Princesses of Power
Best Visuals for an Animated Show of 2019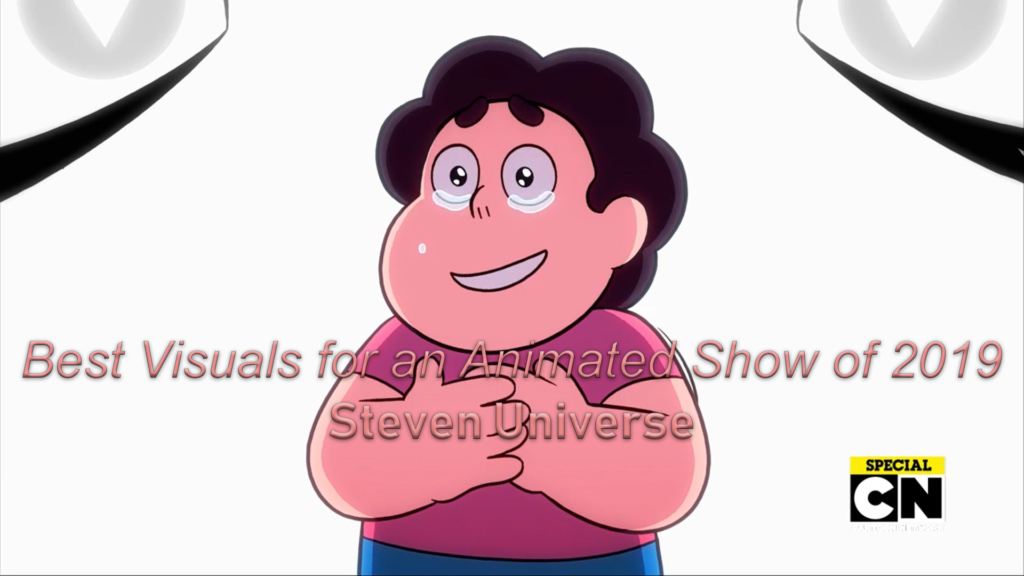 Winner: Steven Universe
| | | | |
| --- | --- | --- | --- |
| Show | Average% | Open Vote | Internal |
| Steven Universe | 27.14% | 35.30% | 18.99% |
| Undone | 19.95% | 3.20% | 36.71% |
| Carmen Sandiego | 17.81% | 14.10% | 21.52% |
| Love, Death + Robots | 12.15% | 12.90% | 11.39% |
| Hazbin Hotel | 11.91% | 17.50% | 6.33% |
| RWBY | 11.08% | 17.10% | 5.06% |
Past winners: 2017-Little Witch Academia & Samurai Jack
Best Music for an Animated Show of 2019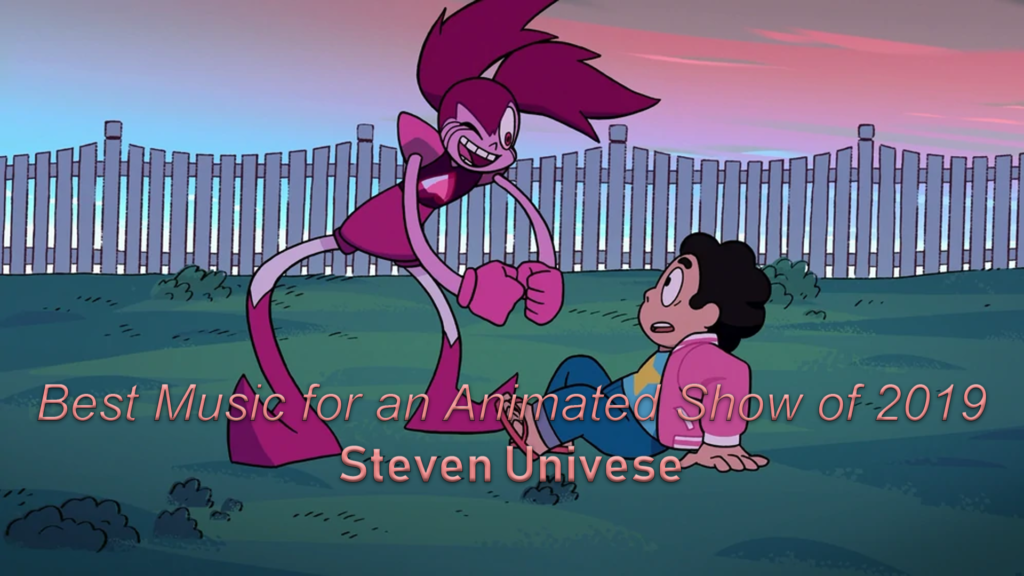 Winner: Steven Universe
| | | | |
| --- | --- | --- | --- |
| Show | Average% | Open Vote | Internal |
| Steven Universe | 44.37% | 50.80% | 37.93% |
| RWBY | 20.92% | 22.30% | 19.54% |
| Carole & Tuesday | 11.65% | 7.20% | 16.09% |
| The Promised Neverland | 8.67% | 4.70% | 12.64% |
| Infinity Train | 8.30% | 7.40% | 9.20% |
| Hazbin Hotel | 6.10% | 7.60% | 4.60% |
Podcast: Play in new window | Download
Subscribe: Google Podcasts | Spotify | Stitcher | TuneIn | RSS