Winners: 2018 OVA-ies TV Animation Awards
By: Dylan Hysen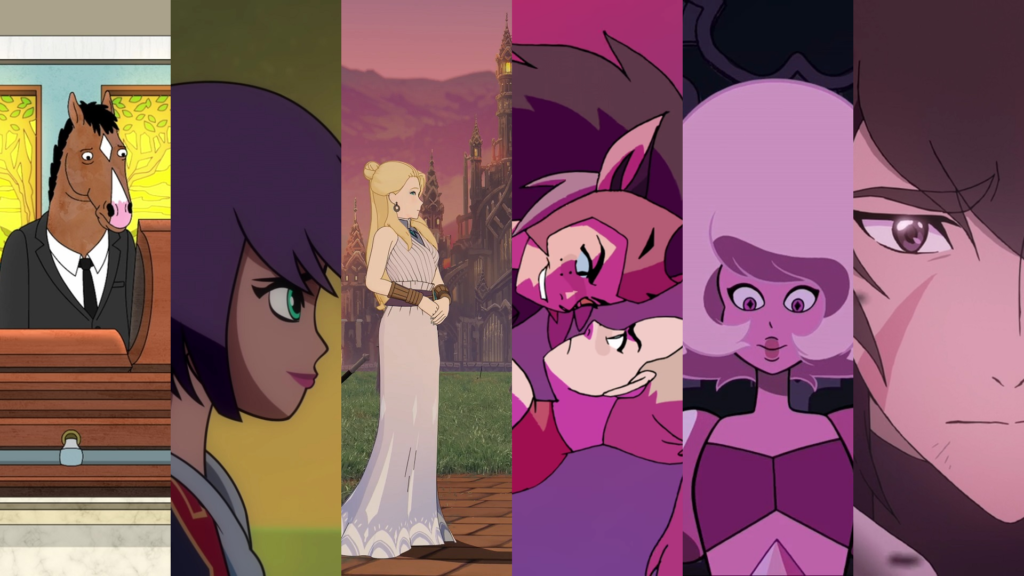 The results are in for our 2018 OVA-ies TV Animation Awards! After 11,700 votes cast (!) and deliberations from our expert panels, the winners in five categories have been determined. Listen to the attached podcast to hear us announce the winners and analyze the results.
Steven Universe was the big winner of the night, sweeping the two biggest categories: Best Show and Best Episode. Miraculous Ladybug won best main character for Marinette and Voltron: Legendary Defender won supporting character for Lotor while also having high voting turnout. She-Ra and the Princesses of Power won best new show while also being competitive in the other categories.
How the results were calculated: an average ranking was determined by averaging the placement in the Open Vote and what the Expert Panel ranked the order of the nominees. The specific percentage in the Open Vote did not factor in, only what place it finished (1st, 2nd, etc.) in the category's vote. The Expert Panels were made up of people in our internal community who watch each show nominated in the specific category, and was factored into the final result to mitigate the popularity contest element.
Best Animated Show of 2018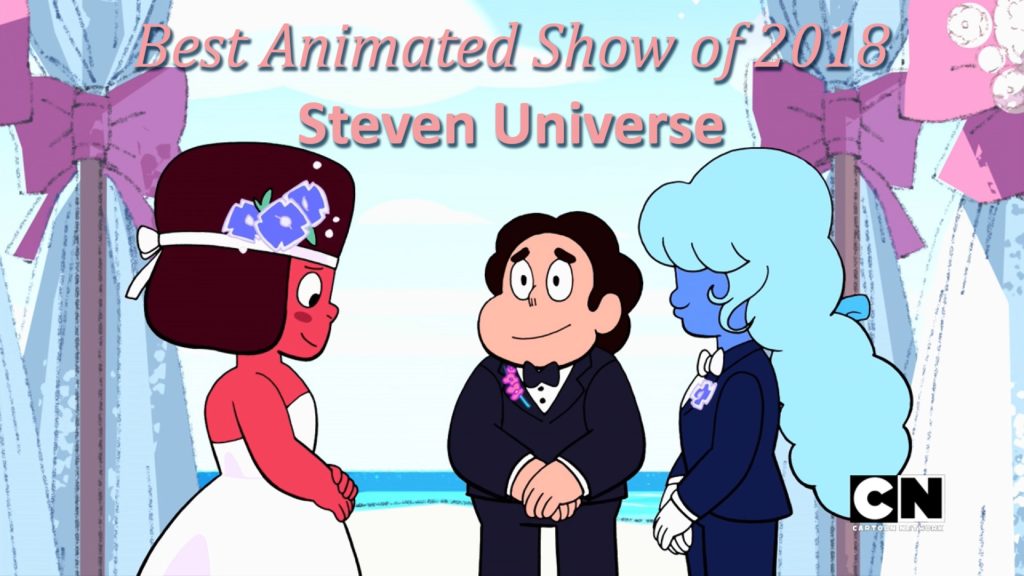 Winner: Steven Universe
| | | | |
| --- | --- | --- | --- |
| Show | Average Rank | Open Vote | Expert Panel |
| 1st: Steven Universe | 1.5 | 2 (29%) | 1 |
| 2nd: Voltron: Legendary Defender | 2 | 1 (34%) | 3 |
| T-3rd: She-Ra and the Princesses of Power | 3.5 | 3 (23%) | 4 |
| T-3rd: BoJack Horseman | 3.5 | 5 (6.7%) | 2 |
| 5th: RWBY | 5 | 4 (6.8%) | 6 |
| 6th: Mysticons | 5.5 | 6 (1%) | 5 |
Best Animation Episode of 2018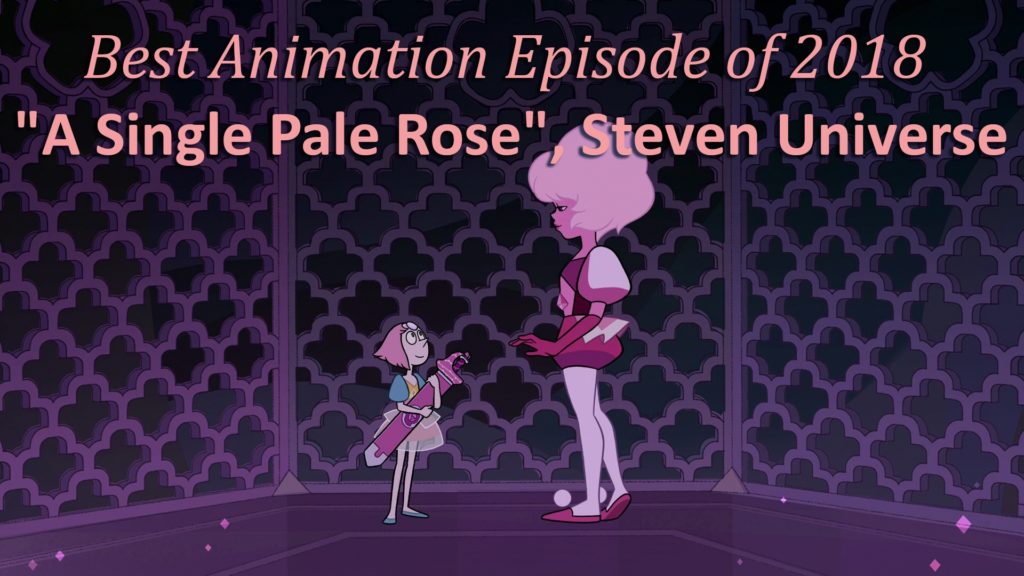 Winner:  "A Single Pale Rose", Steven Universe
| | | | |
| --- | --- | --- | --- |
| Episode | Average Rank | Open Vote | Expert Panel |
| 1st: "A Single Pale Rose", Steven Universe | 1.5 | 2 (23%) | 1 |
| T-2nd: "Come Along With Me", Adventure Time | 3 | 3 (16%) | 3 |
| T-2nd: "The Black Paladins", Voltron: Legendary Defender | 3 | 1 (41%) | 5 |
| 4th: "Free Churro", BoJack Horseman | 3.5 | 5 (3%) | 2 |
| 5th: "Promise", She-Ra and the Princesses of Power | 4 | 4 (15%) | 4 |
| 6th: "The Princess and the Pirate", Mysticons | 6 | 6 (1%) | 6 |
Best Animation Main Character of 2018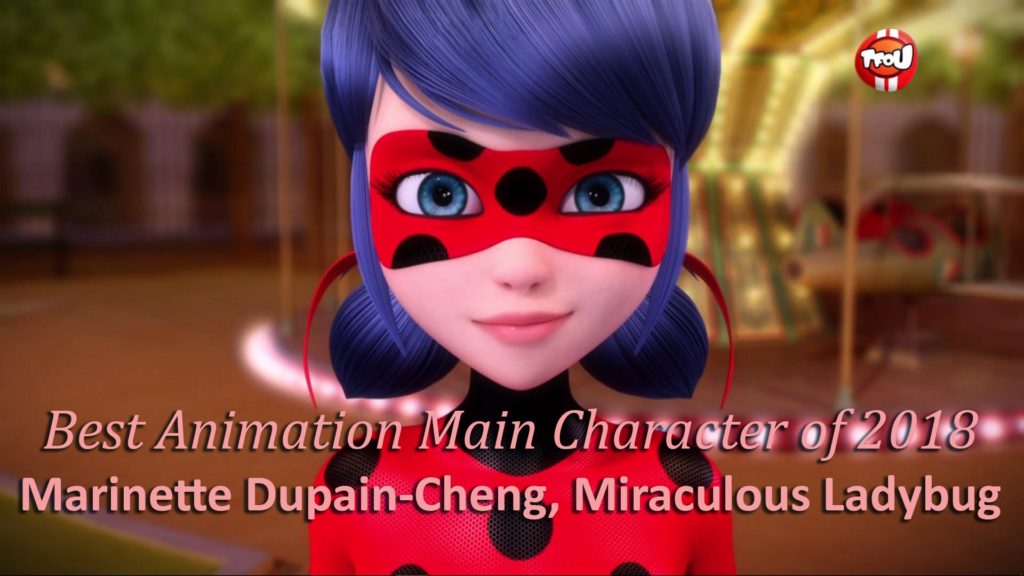 Winner: Marinette Dupain-Cheng, Miraculous Ladybug
| | | | |
| --- | --- | --- | --- |
| Character | Average Rank | Open Vote | Expert Panel |
| 1st: Marinette Dupain-Cheng, Miraculous Ladybug | 1.5 | 1 (28.4%) | 2 |
| T-2nd: Pearl, Steven Universe | 3.5 | 3 (26%) | 4 |
| T-2nd: Catra, She-Ra and the Princesses of Power | 3.5 | 2 (28.3%) | 5 |
| T-2nd: Zarya Moonwolf, Mysticons | 3.5 | 6 (1%) | 1 |
| 5th: BoJack Horseman, BoJack Horseman | 4 | 5 (8%) | 3 |
| 6th: Star Butterfly, Star vs. the Forces of Evil | 5 | 4 (9%) | 6 |
Best Animation Supporting Character of 2018
Winner: Lotor, Voltron: Legendary Defender
| | | | |
| --- | --- | --- | --- |
| Character | Average Rank | Open Vote | Expert Panel |
| 1st: Lotor, Voltron: Legendary Defender | 1 | 1 (43%) | 1 |
| 2nd: Lapis, Steven Universe | 3 | 2 (20%) | 4 |
| T-3rd: Hawk Moth, Miraculous Ladybug | 3.5 | 4 (12%) | 3 |
| T-3rd: Eclipsa, Star vs. the Forces of Evil | 3.5 | 5 (11%) | 2 |
| 5th: Scorpia, She-Ra and the Princesses of Power | 4 | 3 (14%) | 5 |
| 6th: Kitty Boon, Mysticons | 6 | 6 (1%) | 6 |
Best New Animated Show of 2018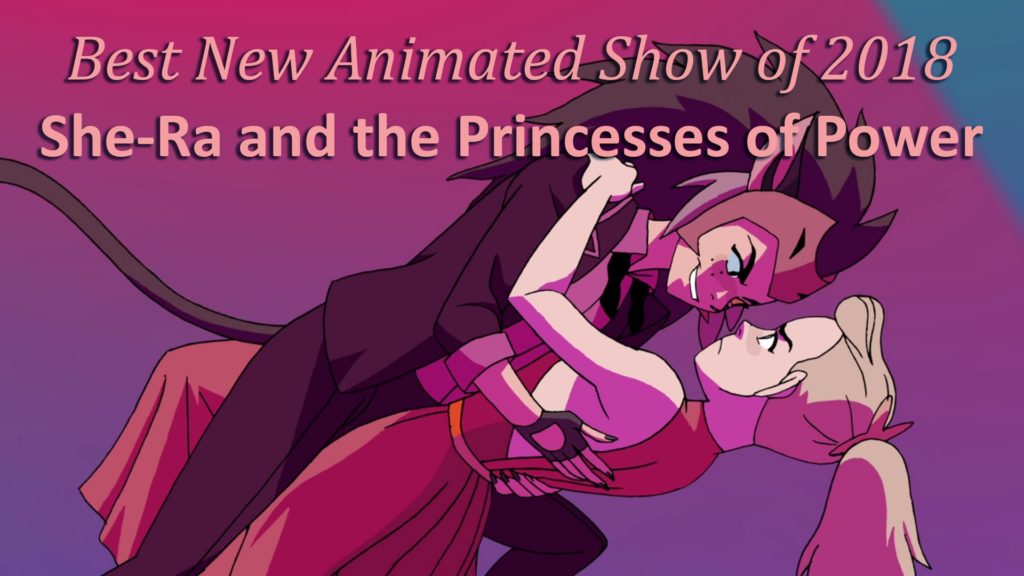 Winner: She-Ra and the Princesses of Power
| | | | |
| --- | --- | --- | --- |
| Show | Average Rank | Open Vote | Expert Panel |
| 1st: She-Ra and the Princesses of Power | 2 | 1 (40%) | 3 |
| 2nd: Bloom Into You | 3 | 5 (5%) | 1 |
| T-3rd: Craig of the Creek | 4 | 6 (5%) | 2 |
| T-3rd: Final Space | 4 | 4 (6%) | 4 |
| T-3rd: Hilda | 4 | 3 (13%) | 5 |
| T-3rd: The Dragon Prince | 4 | 2 (31%) | 6 |
Podcast: Play in new window | Download
Subscribe: Google Podcasts | Spotify | TuneIn | RSS