Winners: 2017 OVA-ies TV Animation Awards
By: Dylan Hysen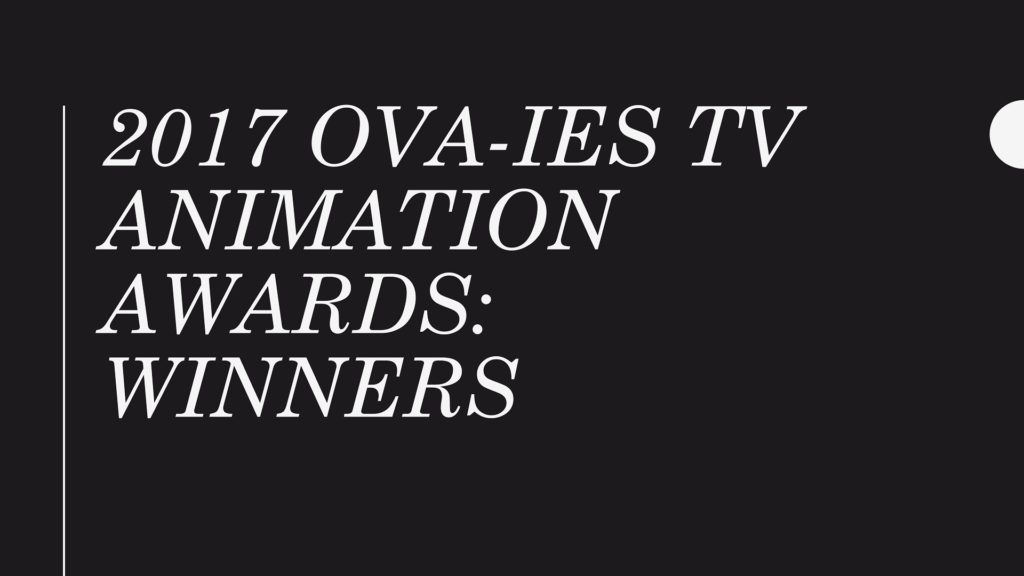 The results are in for our 2017 OVA-ies TV Animation Awards! After 1,420 votes cast and deliberations from our expert panels, the winners in five categories have been determined.
Listen to the attached podcast to hear Dylan and others announce the winners and analyze the results.
Rick and Morty won big, sweeping the two biggest categories: Best Show and Best Episode. Little Witch Academia also fared well, winning Best Supporting Character for Diana and finishing tied for Best Visuals. Star vs. the Forces of Evil picked up a win for Best Main Character for Star Butterfly, and Samurai Jack tied for Best Visuals.
How the results were calculated: an average ranking was determined by averaging the placement in the Open Vote and what the Expert Panel ranked the order of the nominees. The specific percentage in the Open Vote did not factor in, only what place it finished (1st, 2nd, etc.) in the category's vote. The Expert Panels were made up of people in our internal community who watch each show nominated in the specific category, and was factored into the final result to mitigate the popularity contest element.
Best Animated Show of 2017
Winner: Rick and Morty
| | | | |
| --- | --- | --- | --- |
| Show | Average Rank | Open Vote | Expert Panel |
| 1st: Rick and Morty | 1 | 1 (30%) | 1 |
| 2nd: BoJack Horseman | 2 | 2 (18.4%) | 2 |
| 3rd: Star vs. the Forces of Evil | 3 | 3 (18.1%) | 3 |
| T-4th: Mysticons | 5 | 6 (2.6%) | 4 |
| T-4th: Voltron: Legendary Defender | 5 | 5 (13.6%) | 5 |
| T-4th: Steven Universe | 5 | 4 (17.3%) | 6 |
Best Animated Episode of 2017
Winner: "The Ricklantis Mixup"/"Tales from the Citadel", Rick and Morty
| | | | |
| --- | --- | --- | --- |
| Episode | Average Rank | Open Vote | Expert Panel |
| 1st: "The Ricklantis Mixup"/"Tales from the Citadel", Rick and Morty | 1 | 1 (32.5%) | 1 |
| 2nd: "XCIII", Samurai Jack | 2.5 | 2 (26.4%) | 3 |
| 3rd: "Time's Arrow", BoJack Horseman | 3 | 4 (13.3%) | 2 |
| T-4th: "The Legend Begins", Voltron: Legendary Defender | 4.5 | 5 (8.8%) | 4 |
| T-4th: "The Trial", Steven Universe | 4.5 | 3 (16.8%) | 6 |
| 6th: "All Hail Necrafa", Mysticons | 5.5 | 6 (2.3%) | 5 |
Best Animated Main Character of 2017
Winner: Star Butterfly, Star vs. the Forces of Evil
| | | | |
| --- | --- | --- | --- |
| Character | Average Rank | Open Vote | Expert Panel |
| 1st: Star Butterfly, Star vs. the Forces of Evil | 2 | 3 (8.5%) | 1 |
| T-2nd: BoJack Horseman, BoJack Horseman | 2.5 | 2 (9.5%) | 3 |
| T-2nd: Weiss Schnee, RWBY | 2.5 | 1 (72.9%) | 4 |
| 4th: Emerald Goldenbraid, Mysticons | 4 | 6 (1.4%) | 2 |
| 5th: Marinette Dupain-Cheng, Miraculous Ladybug | 4.5 | 4 (5.4%) | 5 |
| 6th: Morty Smith, Rick and Morty | 5.5 | 5 (2.5%) | 6 |
Best Animated Supporting Character of 2017
Winner: Diana Cavendish, Little Witch Academia
| | | | |
| --- | --- | --- | --- |
| Character | Average Rank | Open Vote | Expert Panel |
| 1st: Diana Cavendish, Little Witch Academia | 2.5 | 1 (30.5%) | 4 |
| T-2nd: Moon Butterfly, Star vs. the Forces of Evil | 3.5 | 4 (11.6%) | 3 |
| T-2nd: Hollyhock, BoJack Horseman | 3.5 | 5 (11.4%) | 2 |
| T-2nd: Prince Lotor, Voltron: Legendary Defender | 3.5 | 6 (8.2%) | 1 |
| T-5th: Summer Smith, Rick and Morty | 4 | 2 (23.3%) | 6 |
| T-5th: Lars Barriga, Steven Universe | 4 | 3(14.9%) | 5 |
Best Visuals for an Animated Show of 2017
Winner: TIE – Little Witch Academia & Samurai Jack
| | | | |
| --- | --- | --- | --- |
| Show | Average Rank | Open Vote | Expert Panel |
| T-1st: Little Witch Academia | 1.5 | 1 (30%) | 2 |
| T-1st: Samurai Jack | 1.5 | 2 (29.1%) | 1 |
| 3rd: Star vs. the Forces of Evil | 4 | 4 (10.2%) | 4 |
| T-4th: Steven Universe | 4.5 | 3 (13.9%) | 6 |
| T-4th: Voltron: Legendary Defender | 4.5 | 6 (8.1%) | 3 |
| 6th: Miraculous Ladybug | 5 | 5 (8.6) | 5 |
Podcast: Play in new window | Download
Subscribe: Google Podcasts | Spotify | Stitcher | TuneIn | RSS