Last Week in Animation: August 21st
By: Alex Bonilla
Welcome to Overly Animated's Last Week in Animation! This is a recurring series where we aggregate the news items most relevant to fans of the shows we cover regularly, as well as interesting tidbits on other animated television and film projects.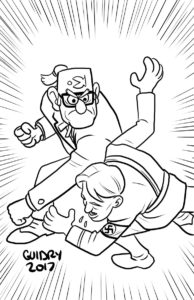 On Tuesday, Gravity Falls creator Alex Hirsch, in light of recent national debate, tweeted out a personal blessing to draw his famous character Grunkle Stan punching a Nazi if they so desired. Gravity Falls fan artists immediately got to work, posting dozens of drawings and animations using the Disney character. This comes a week after We Bare Bears storyboarder Louie Zong took down an animation he tweeted of Ice Bear punching a Nazi. No reason was given for the removal, but one can assume that the networks who own these shows are probably uncomfortable with their intellectual property being used for such overtly political reasons. In any case, in such a polarizing political climate, it's interesting that even a field seemingly focused at a younger demographic is able to use their skills to make their points on a bigger stage than they could've before the social media age. [Cartoon Brew] [Image]
The Weinstein Company is officially branching out into animation, according to their announcement that Leap! would be released under a new studio label, Mizchief. Harvey Weinstein also announced three upcoming animated features, including a "reworking" of the 2016 Chinese film Little Door Gods. "Animation is a playful new direction for us," Weinstein said. Indeed, this is a hard turn from the Weinstein Company's usual fare, which usually involves Oscar-nominated dramas such as Silver Linings Playbook and The King's Speech. [Cartoon Brew]
FOX's latest animated project will be helmed by Parks and Recreation and Saturday Night Live alum Amy Poehler, who is expected to also provide voice work for several characters on the show. The show has been initially described as following an average 15-year-old with dreams of becoming something big; FOX has ordered a pilot to see what direction they plan to take the project in. Poehler will work with The Simpsons writers Mike and Julie Scully; Mike also wrote for Parks and Recreation. [IndieWire]
Due to Fox Searchlight assigning Super Troopers 2 with a April 20, 2018 release, the Wes Anderson stop-motion film Isle of Dogs has been moved up to March 23, 2018. Isle of Dogs was previously slated to come out on April 20, so this news bodes well for news on Anderson's progress with the film. [IndieWire]
Live Action Corner
We talked about the greenlight of a One Piece live action adaptation in our July 24th edition, and recent news has come out that the project will be working with a massive budget, estimated at up to $10 million per episode. For context, that's about what HBO is spending for each of the latest episodes of Game of Thrones, one of the most expensive TV shows currently on the air. The adaptation was announced during a celebration of the anime's 20th anniversary. [ComicBook.com]
In the latest edition of Hollywood wanting to turn every animated property into a live action property, a pilot order for The Jetsons has been picked up by ABC. As mentioned in our July 3rd edition, Oscar-winning director Robert Zemeckis and Family Guy producer Gary Janetti are the main names behind this project. [TVLine]
And finally, in this edition of Weird Animation of the Week, here's some recently uncovered footage of the 1995 and 1997 demos of Johnny Quasar, which would later be reworked into Nickelodeon's hit early 2000s franchise centered around the boy genius character, Jimmy Neutron. Previously, only a 10-second clip of Johnny Quasar was floating around the Internet.