Last Week in Animation: August 28th
By: Alex Bonilla
Welcome to Overly Animated's Last Week in Animation! This is a recurring series where we aggregate the news items most relevant to fans of the shows we cover regularly, as well as interesting tidbits on other animated television and film projects.
Where's BoJack?
On Friday, Netflix finally dropped a trailer for the fourth season of BoJack Horseman, which is scheduled to be released in its entirety on the online streaming service on September 8. The trailer puts a focus on Mr. Peanutbutter's governor campaign, as well as showcasing popular main cast members Diane Nguyen and Princess Caroline. However, the character who the show is named after makes only a brief appearance, and the marketing around this fourth season has advanced the idea that BoJack has gone missing. You can keep up on speculation surrounding the trailer as well as coverage of the show's fourth season on future episodes of the Overly Animated Podcast.
KO Gets Dark
Cartoon Network has been promoting its latest new show, Ian Jones-Quartey's OK KO! Let's Be Heroes!, all month, and the show has quickly culminated to a season finale, which will premiere on Labor Day (September 4th for those unaware of U.S. holidays). Additionally, according to TV listings sites, Cartoon Network will air two new episodes of OK KO! on Friday, September 1st. You can hear our coverage of the most recent episodes of the show soon.
In Other Netflix News
Earlier last week, Netflix released two teasers for their new adult animated sitcom, Big Mouth, which looks to be a surreal representation of the childhoods of stand-up comedian Nick Kroll and writer Andrew Goldberg (so, essentially a wackier version of Bill Burr's Netflix animated show F Is For Family). The project's voice cast is impressive, with Kroll, John Mulaney, Maya Rudolph, Jason Mantzoukas, Jordan Peele, Fred Armisen and Jenny Slate attached. Several studios are attached to the program, including Titmouse Inc., which has experience with Adult Swim shows such as The Venture Bros. and Metalocalypse. (Overly Animated connection: Titmouse Inc. also did the main title sequence for Avatar: The Last Airbender.) Big Mouth's first ten episodes are expected to premiere on Netflix September 29.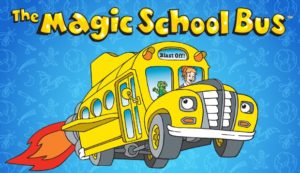 We don't have any footage yet, but Netflix will also premiere their The Magic School Bus reboot on September 29. The original animated adaptation of the book series ended after 4 seasons in 1997, and was led by the fantastic Ms. Frizzle, voiced by Tony Award-winning actress and LGBT icon Lily Tomlin. This time around, the eccentric teacher will be voiced by Saturday Night Live's first openly lesbian cast member, Kate McKinnon. [Romper]
Other News and Notes
Samurai Jack is getting a complete remaster, as Adult Swim announced a Blu-Ray box set of the first five seasons with a myriad of bonus features will come out on October 17th. Additionally, Adult Swim will release the first three episodes of the first season as a feature film for one night in various U.S. theaters on October 16th. [Animation World Network]
In preparation for the premiere of South Park's 21st season on September 13th, Comedy Central is reportedly going to air all 254 episodes of South Park over the course of an eight-day marathon beginning on September 6th. This will be interesting, as there are episodes of South Park that have never aired on the network since their original premiere due to extreme controversy, such as their 2010 Muhammad episodes "200/201". [The Hollywood Reporter]
In an awful weekend performance for the movie industry on a whole, the Weinstein Company's acquired French animated feature Leap! finished third domestically with $4.7 million, behind new arrival The Hitman's Bodyguard and third-week Annabelle: Creation. Despite being one of the worst showings ever for a movie opening to 2500 theaters or more, it is very rare for a wide release foreign animated film to do anything in the United States. [The Hollywood Reporter, Cartoon Brew]
And finally, in this edition of Weird Animation of the Week, the answer to the age old question: What if SpongeBob SquarePants was an anime?