Winners: 2021 OVA-ies TV Animation Awards
By: Dylan Hysen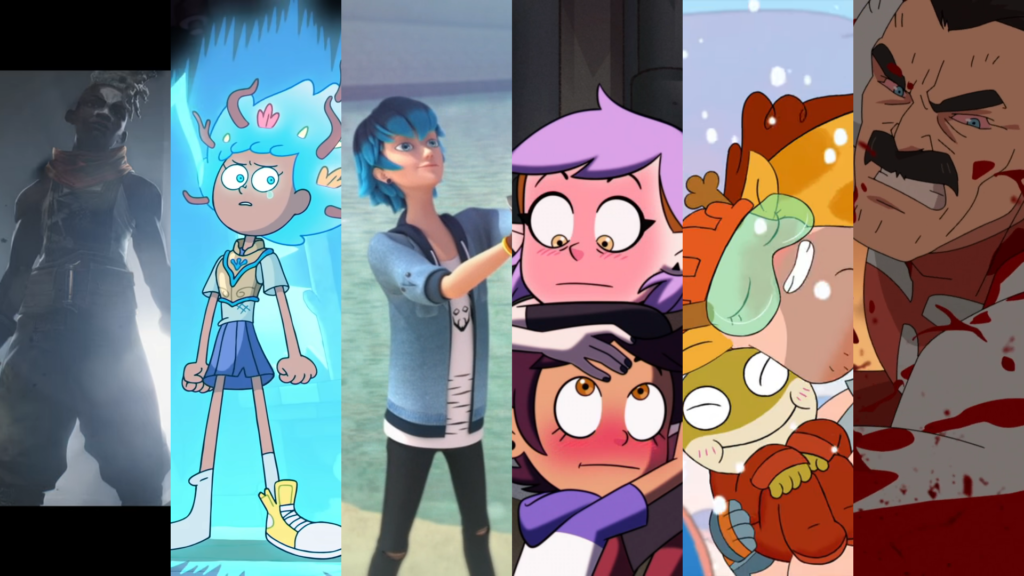 The results are in for our 2021 OVA-ies TV Animation Awards! After 268 votes cast, the winners in five categories have been determined.
The Owl House was the big winner this year, taking home Best Show in addition to Luz for Best Main Character and Amity for Best Supporting Character. Amphibia won Best Episode for "True Colors" and Centaurworld won Best New Show.
How the results were calculated: final placement was determined by an averaging of the percentages of the Open Vote and the Internal Vote of our patrons and staff. The intent of this is to balance the popularity contest aspect of the Open Vote with more of an expert opinion from our internal community.
Best Animated Show of 2021
| | | | |
| --- | --- | --- | --- |
| Show | Average% | Open Vote | Internal |
| The Owl House | 27.20% | 41.90% | 12.50% |
| Miraculous Ladybug | 22.40% | 13.50% | 31.30% |
| Arcane | 19.60% | 14.20% | 25.00% |
| Amphibia | 15.75% | 12.70% | 18.80% |
| Centaurworld | 13.20% | 13.90% | 12.50% |
| Invincible | 1.85% | 3.70% | 0.00% |
Past winners: 2020-Kipo and the Age of Wonderbeasts; 2019-Steven Universe; 2018-Steven Universe; 2017-Rick and Morty; 2016-Steven Universe
Best Animation Episode of 2021
Winner: "True Colors", Amphibia
| | | | |
| --- | --- | --- | --- |
| Episode | Average% | Open Vote | Internal |
| "True Colors", Amphibia | 26.45% | 34.10% | 18.80% |
| "Knock, Knock, Knockin' on Hooty's Door", The Owl House | 21.00% | 29.50% | 12.50% |
| "The Last Lullaby", Centaurworld | 19.80% | 20.80% | 18.80% |
| "Wishmaker", Miraculous Ladybug | 13.00% | 7.20% | 18.80% |
| "Where I Really Come From", Invincible | 11.85% | 4.90% | 18.80% |
| "The Endings", Castlevania | 7.95% | 3.40% | 12.50% |
Past winners: 2020-"Save the Cat", She-Ra and the Princesses of Power; 2019- "Change Your Mind", Steven Universe; 2018-"A Single Pale Rose", Steven Universe; 2017-"Tales from the Citadel", Rick and Morty; 2016-"Weirdmageddon 3: Take Back The Falls", Gravity Falls
Best Animation Main Character of 2021
| | | | |
| --- | --- | --- | --- |
| Character | Average% | Open Vote | Internal |
| Luz, The Owl House | 43.15% | 48.80% | 37.50% |
| Anne, Amphibia | 22.55% | 13.80% | 31.30% |
| Horse, Centaurworld | 15.50% | 18.50% | 12.50% |
| Marinette, Miraculous Ladybug | 13.80% | 8.80% | 18.80% |
| Craig, Craig of the Creek | 3.25% | 6.50% | 0.00% |
| Artemis, Young Justice: Phantoms | 1.75% | 3.50% | 0.00% |
Past winners: 2020-Lake, Infinity Train; 2019-Tulip, Infinity Train; 2018-Marinette, Miraculous Ladybug; 2017-Star Butterfly, Star vs. the Forces of Evil; 2016-Pearl, Steven Universe
Best Animation Supporting Character of 2021
| | | | |
| --- | --- | --- | --- |
| Character | Average% | Open Vote | Internal |
| Amity, The Owl House | 41.05% | 50.80% | 31.30% |
| Alya, Miraculous Ladybug | 21.45% | 11.60% | 31.30% |
| Susie, Summer Camp Island | 14.25% | 9.70% | 18.80% |
| Comfortable Doug, Centaurworld | 8.75% | 11.20% | 6.30% |
| Libby, The Ghost and Molly McGee | 8.65% | 6.20% | 11.10% |
| Sasha, Amphibia | 5.25% | 10.50% | 0.00% |
Past winners: 2020-Amity, The Owl House; 2019-Scorpia, She-Ra and the Princesses of Power; 2018-Lotor, Voltron: Legendary Defender; 2017-Diana Cavendish, Little Witch Academia; 2016-Peridot, Steven Universe
Best New Animated Show of 2021
| | | | |
| --- | --- | --- | --- |
| Show | Average% | Open Vote | Internal |
| Centaurworld | 38.20% | 32.60% | 43.80% |
| Arcane | 32.70% | 34.10% | 31.30% |
| Invincible | 14.85% | 10.90% | 18.80% |
| The Ghost and Molly McGee | 8.60% | 10.90% | 6.30% |
| What If…? | 5.25% | 10.50% | 0.00% |
| Q-Force | 0.60% | 1.20% | 0.00% |
Past winners: 2020-The Owl House; 2019-Infinity Train; 2018-She-Ra and the Princesses of Power