"Miyazakiworld: A Life in Art" is an Engaging and Insightful Look into the Greatest Animator of All Time
By: Dylan Hysen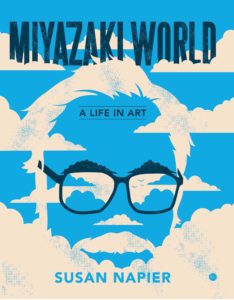 Miyazakiworld: A Life in Art by Japanese culture and animation scholar Susan Napier is a new book about the greatest animator of all time Hayao Miyazaki, and his creations. The book is a lens into the man himself through the "Miyazakiworld," what Napier defines as Miyazaki's canon of works. As a huge fan of Miyazaki's films, I found the book to be engaging throughout and enlightening into the man himself and his movies which I love so dearly.
Miyazakiworld is something akin to a biography of Miyazaki, getting into all the important elements of his life and how they influenced his films, but the book is told through this canon of his works that is the Miyazakiworld. By structuring the book around and staying focused on his films, Napier keeps the book extremely accessible for any fan of anime, animation, or Miyazaki himself. It stays accessible throughout despite its scholarly writing, which was never any sort of roadblock for me.
Napier's love of and expertise on Miyazaki is apparent throughout. She frequently breaks from retelling anecdotes surrounding his films to just describe the movies themselves in gorgeous, elegant prose. They're some of the best descriptions of his films I've ever read. This love clearly also extends to anime and animation in general as Miyazakiworld has a clear understanding of animation as a whole and a deference to it as a medium. There are references throughout to other classic anime and even modern anime.
I learned so much about Miyazaki's films, but in particular this book helped me to better understand two of them that I previously had trouble reconciling with his canon. The Wind Rises always felt so different to me than his other films but after Napier outlines how the film retells much of Miyazaki's own life and how it connects to the themes of his other works, it now makes perfect sense to me. I had a similar reaction to reading about Porco Rosso in this book: the themes of the movie that Napier describes and the insight into Miyazaki's views and sense of self really help to better incorporate it into my understanding of the Miyazakiworld.
There's also so much info here on Miyazaki's contributions to works before his directorial debut with The Castle of Cagliostro, and tons of insight into his lesser known works like the Nausicaä manga and his anime series Future Boy Conan. Miyazakiworld: A Life in Art provides so much insight into the mind of a man we all love but know so little about, and it was a fantastic experience delving into his history and revisiting his films.
Miyazakiworld: A Life in Art is available now.