Winners: 2020 OVA-ies TV Animation Awards
By: Dylan Hysen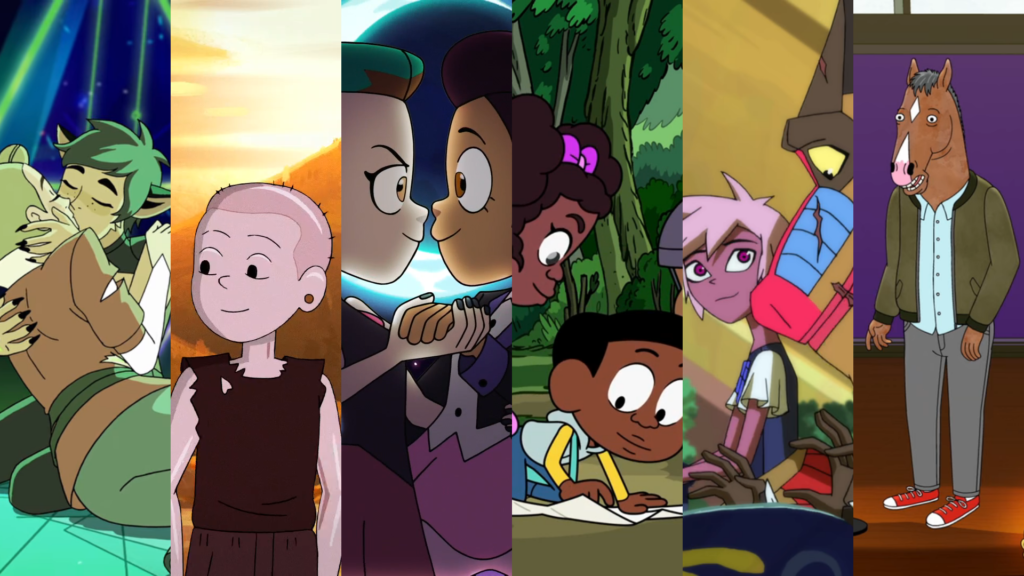 The results are in for our 2020 OVA-ies TV Animation Awards! After 658 votes cast, the winners in five categories have been determined.
Kipo and the Age of Wonderbeasts had the biggest win of the night for Best Show while She-Ra and the Princesses of Power won Best Episode for "Save the Cat" and Infinity Train won Best Main Character for Lake. The Owl House took home two awards for Best New Show and Best Supporting Character for Amity.
How the results were calculated: final placement was determined by an averaging of the percentages of the Open Vote and the Internal Vote of our patrons and staff. The intent of this is to balance the popularity contest aspect of the Open Vote with more of an expert opinion from our internal community.
Best Animated Show of 2020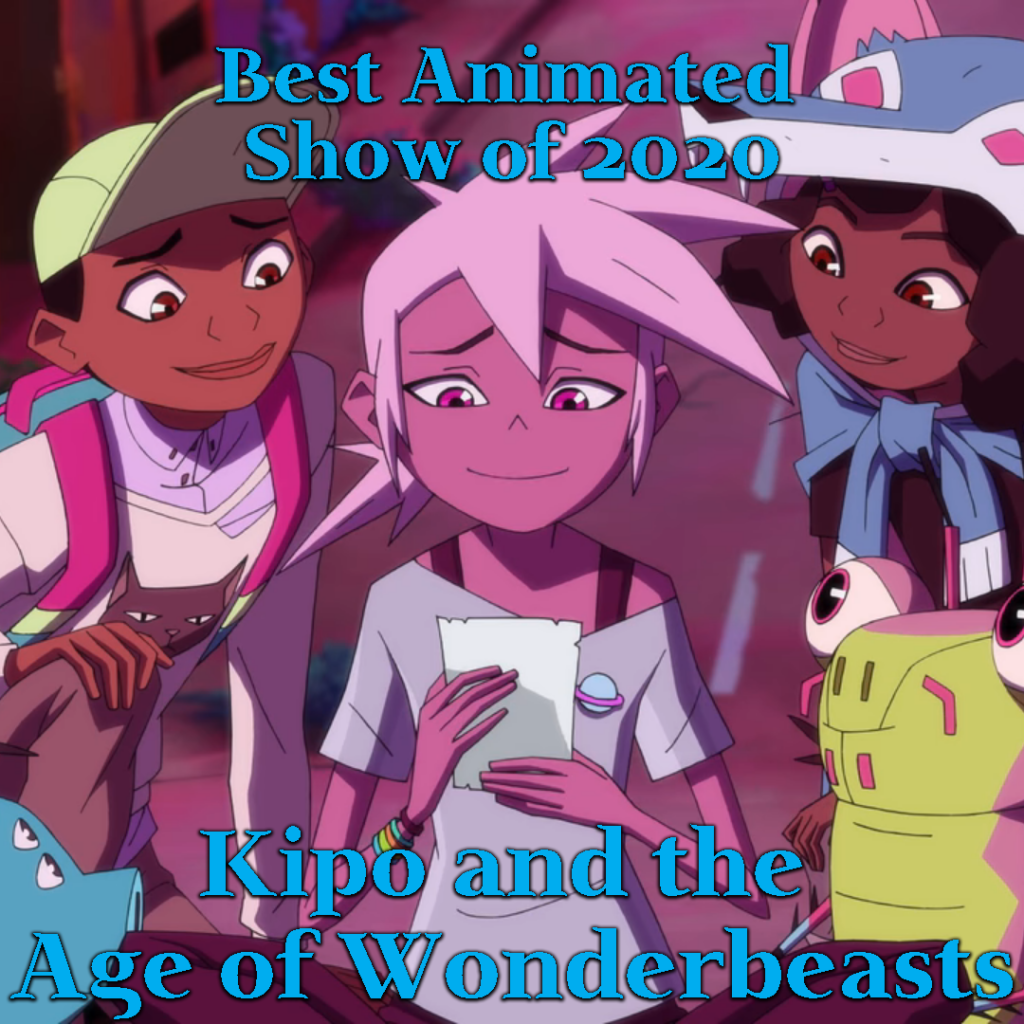 Winner: Kipo and the Age of Wonderbeasts
| | | | |
| --- | --- | --- | --- |
| Show | Average% | Open Vote | Internal |
| Kipo and the Age of Wonderbeasts | 38.15% | 9.6% | 66.7% |
| She-Ra and the Princesses of Power | 23.2% | 35.3% | 11.1% |
| Infinity Train | 19.95% | 28.8% | 11.1% |
| The Owl House | 10.45% | 15.3% | 5.6% |
| Craig of the Creek | 4.75% | 3.9% | 5.6% |
| BoJack Horseman | 3.6% | 7.2% | 0% |
Past winners: 2019-Steven Universe; 2018-Steven Universe; 2017-Rick and Morty; 2016-Steven Universe
Best Animation Episode of 2020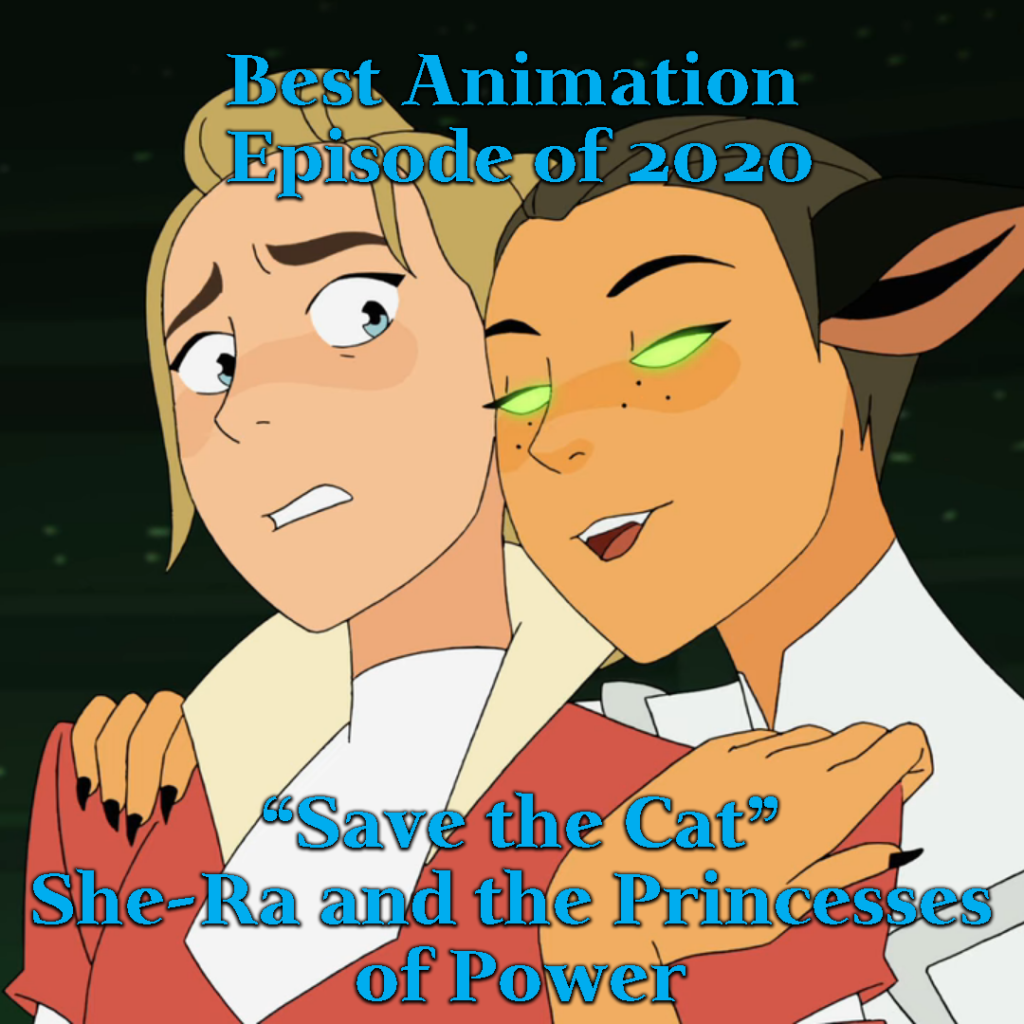 Winner: "Save the Cat", She-Ra and the Princesses of Power
| | | | |
| --- | --- | --- | --- |
| Episode | Average% | Open Vote | Internal |
| "Save the Cat", She-Ra and the Princesses of Power | 38.15% | 37.4% | 38.9% |
| "Enchanting Grom Fright", The Owl House | 17.35% | 23.6% | 11.1% |
| "Miraculous World: New York – UnitedHeroeZ", Miraculous Ladybug | 16.4% | 5% | 27.8% |
| "The View from Halfway Down", BoJack Horseman | 15.6% | 14.5% | 16.7% |
| "Sympathy for the Mandrill", Kipo and the Age of Wonderbeasts | 6.6% | 7.6% | 5.6% |
| "The Deerfox", Hilda | 5.95% | 11.9% | 0% |
Past winners: 2019- "Change Your Mind", Steven Universe; 2018-"A Single Pale Rose", Steven Universe; 2017-"Tales from the Citadel", Rick and Morty; 2016-"Weirdmageddon 3: Take Back The Falls", Gravity Falls
Best Animation Main Character of 2020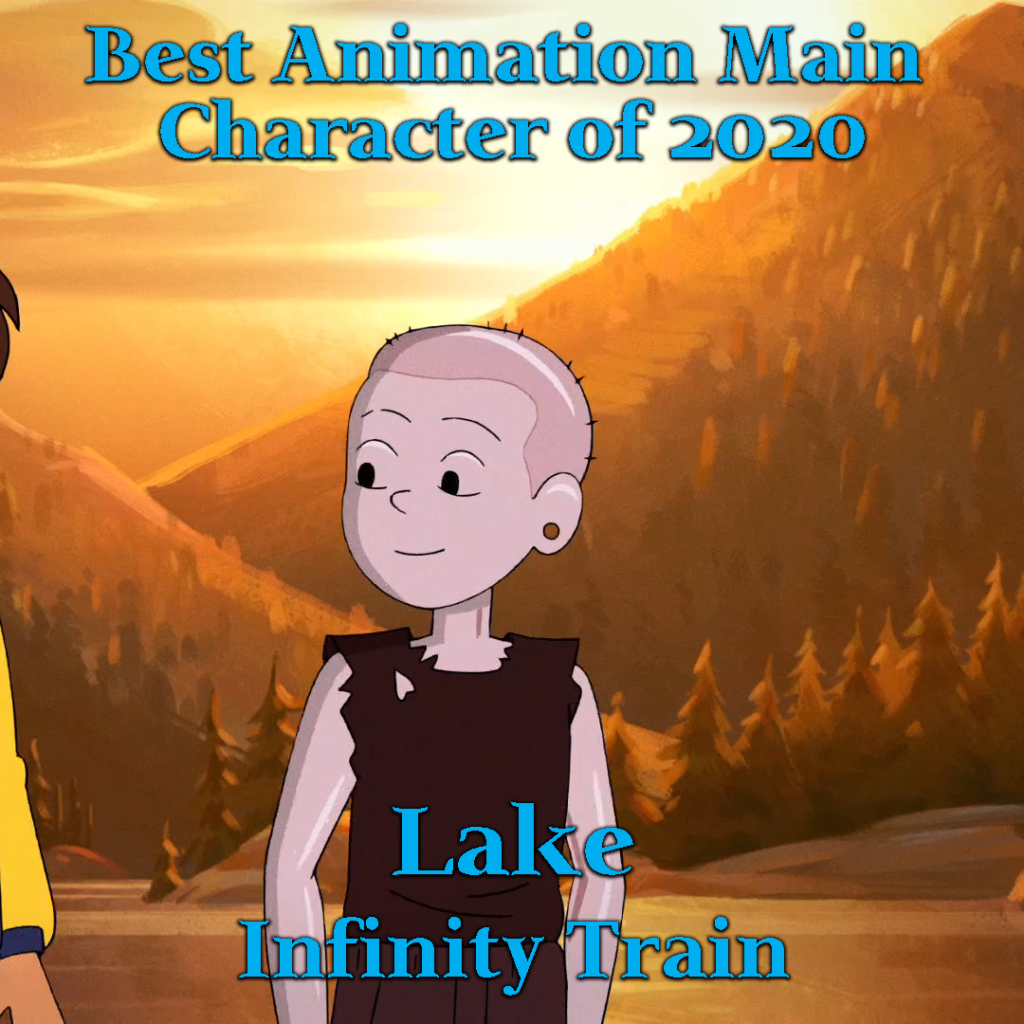 Winner: Lake, Infinity Train
| | | | |
| --- | --- | --- | --- |
| Character | Average% | Open Vote | Internal |
| Lake, Infinity Train | 27.5% | 27.2% | 27.8% |
| Adora, She-Ra and the Princesses of Power | 22.9% | 29.1% | 16.7% |
| Kipo, Kipo and the Age of Wonderbeasts | 17.65% | 13.1% | 22.2% |
| Luz, The Owl House | 15.1% | 19.1% | 11.1% |
| BoJack, BoJack Horseman | 9.2% | 7.3% | 11.1% |
| Craig, Craig of the Creek | 7.65% | 4.2% | 11.1% |
Past winners: 2019-Tulip, Infinity Train; 2018-Marinette, Miraculous Ladybug; 2017-Star Butterfly, Star vs. the Forces of Evil; 2016-Pearl, Steven Universe
Best Animation Supporting Character of 2020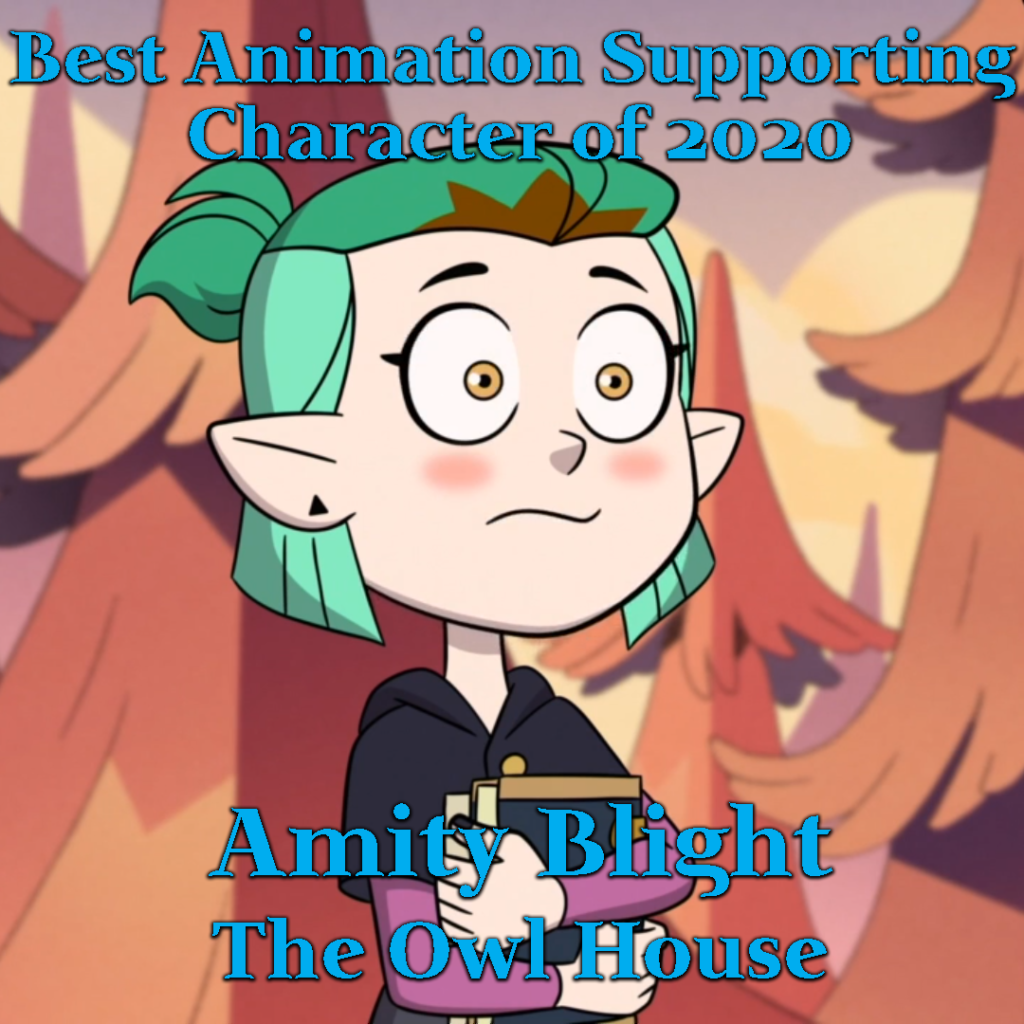 Winner: Amity, The Owl House
| | | | |
| --- | --- | --- | --- |
| Character | Average% | Open Vote | Internal |
| Amity, The Owl House | 40.65% | 31.3% | 50% |
| Entrapta, She-Ra and the Princesses of Power | 22.35% |  28% | 16.7% |
| Scarlemagne, Kipo and the Age of Wonderbeasts | 15.15% | 13.6% | 16.7% |
| Mitch, Glitch Techs | 10.85% | 5% | 16.7% |
| Hazel, Infinity Train | 9.5% | 19% | 0% |
| Jessica, Craig of the Creek | 1.55% | 3.1% | 0% |
Past winners: 2019-Scorpia, She-Ra and the Princesses of Power; 2018-Lotor, Voltron: Legendary Defender; 2017-Diana Cavendish, Little Witch Academia; 2016-Peridot, Steven Universe
Best New Animated Show of 2020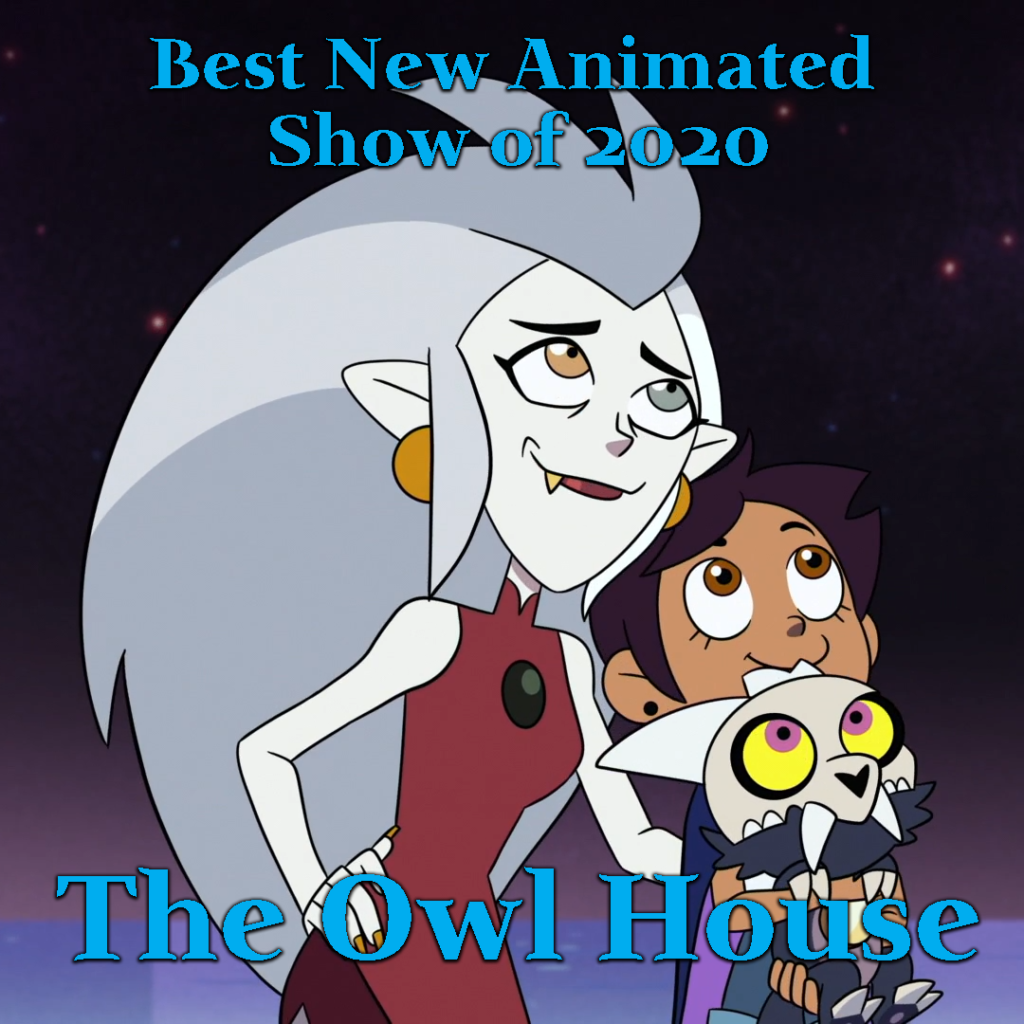 Winner: The Owl House
| | | | |
| --- | --- | --- | --- |
| Show | Average% | Open Vote | Internal |
| The Owl House | 49.35% | 54.3% | 44.4% |
| Kipo and the Age of Wonderbeasts | 39.85% | 29.7% | 50% |
| Glitch Techs | 7% | 8.4% | 5.6% |
| Keep Your Hands Off Eizouken! | 2.5% | 5% | 0% |
| Solar Opposites | 0.65% | 1.3% | 0% |
| Central Park | 0.65% | 1.3% | 0% |
Past winners: 2019-Infinity Train; 2018-She-Ra and the Princesses of Power