Mathematical! An Adventure Time Series Episode Ranking
By: Michael Smith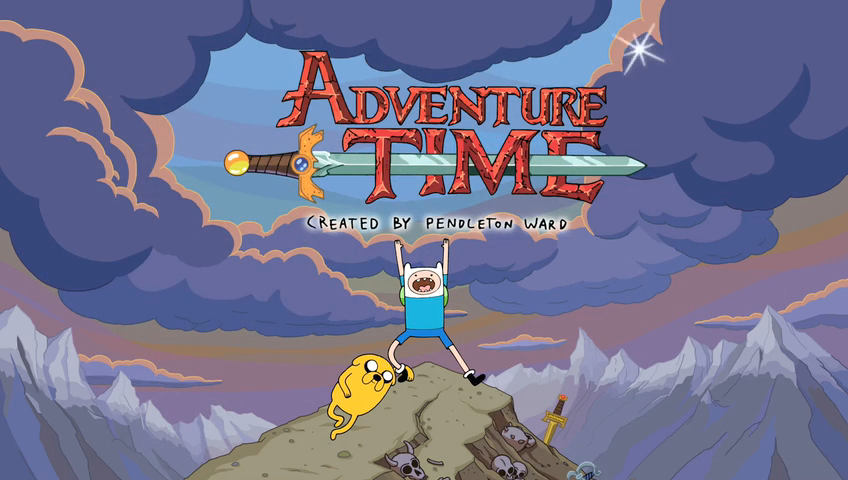 Adventure Time is a seminal work in the history of animation, it's influence on modern animation is vast, work as varied as critical darling Steven Universe to newcomer Summer Camp Island probably wouldn't even exist without this show. Fortunately much has already been said about the impact of Adventure Time over the years, including several articles and podcasts on this very site, so I'm not going to bother you with that sort of introspection. Instead this article has one and only one purpose:
To rank every single episode of Adventure Time from best to worst (and also all the songs and shorts).
A brief explanation of the tiered system, In addition to receiving a numerical placement each episode is assigned a tier from 1 to 5 designating the quality grade of the episode, for simplicity's sake just imagine that tier 1=A, 2=B, 3=C, 4=D, and 5=F. Also season numbering is derived from the original outline and which is why there are only 9 seasons and not 10. Guest animator episodes are added to the season they aired in. Finally, thanks to the Adventure Time Wiki for being very informative and to fellow Adventure Time fans Alex Bonilla and Sam Quattro for giving me the idea to do this. Now on to the main event.
The Adventure Time Series Ranking:
S5E14: Simon and Marcy (T1)

S4E25: I Remember You (T1)

S7E07: Stakes Part 2: Everything Stays (T1)

S9E14: Come Along With Me (T1)

S6E02: Escape From the Citadel (T1)

S8E12: Islands Part 6: Min and Marty (T1)

S8E11: Islands Part 5: Hide and Seek (T1)

S7E13: Stakes Part 8: The Dark Cloud (T1)

S8E14: Islands Part 8: The Light Cloud (T1)

S7E02: Varmints (T1)

S5E48: Betty (T1)

S3E10: What Was Missing (T1)

S2E01: It Came from the Nightosphere (T1)

S7E27: Broke His Crown (T1)

S3E09: Fionna and Cake (T1)

S5E29: Sky Witch (T1)

S2E18: Susan Strong (T1)

S6E14: Princess Day (T1)

S5E32: Earth & Water (T1)

S4E26: The Lich (T1)

S6E43: The Comet (T1)

S9E11: Temple of Mars (T1)

S7E36: The Music Hole (T1)

S7E24: The Hall of Egress (T1)

S7E11: Stakes Part 6: Take Her Back (T1)

S9E10: Jake the Starchild (T1)

S7E06: Stakes Part 1: Marceline the Vampire Queen (T2)

S7E12: Stakes Part 7: Checkmate (T2)

S8E13: Islands Part 7: Helpers (T2)

S9E07: Marcy & Hunson (T2)

S9E12: Gumbaldia (T2)

S5E34: The Vault (T2)

S7E39: Reboot (T2)

S7E38: Preboot (T2)

S1E22: Henchman (T2)

S6E23: The Pajama War (T2)

S8E28: Three Buckets (T2)

S2E25: Mortal Recoil (T2)

S2E20: Go With Me (T2)

S2E24: Mortal Folly (T2)

S8E01: Two Swords (T2)

S8E02: Do No Harm (T2)

S2E23: Video Makers (T2)

S3E05: Too Young (T2)

S3E26: Incendium (T2)

S4E01: Hot to the Touch (T2)

S4E16: Burning Low (T2)

S6E22: The Cooler (T2)

S7E08: Stakes Part 3: Vamps About (T2)

S7E10: Stakes Part 5: May I Come In? (T2)

S7E09: Stakes Part 4: The Empress Eyes (T2)

S7E23: Crossover (T2)

S8E27: Whispers (T2)

S8E06: Jelly Beans Have Power (T2)

S7E34: Elemental (T2)

S8E25: Ketchup (T2)

S9E08: The First Investigation (T2)

S5E11: Bad Little Boy (T2)

S5E12: Vault of Bones (T2)

S5E30: Frost & Fire (T2)

S5E26: Wizard's Only, Fools (T2)

S3E14: Beautopia (T2)

S5E44: Apple Wedding (T2)

S7E35: Five Short Tables (T2)

S5E28: Be More (T2)

S8E19: Elements Part 4: Cloudy (T2)

S8E16: Elements Part 1: Skyhooks (T2)

S8E17: Elements Part 2: Bespoken For (T2)

S8E21: Elements Part 6: Happy Warrior (T2)

S8E22: Elements Part 7: Hero Heart (T2)

S8E23: Elements Part 8: Skyhooks II (T2)

S4E15: Sons of Mars (T2)

S5E02: Jake the Dog (T2)

S5E01: Finn the Human (T2)

S5E20: Shh! (T2)

S4E22: Ignition Point (T2)

S5E47: The Red Throne (T2)

S9E04: Bonnibel Bubblegum (T2)

S9E05: Seventeen (T2)

S6E06: Breezy (T2)

S5E51: Lemonhope Part 2 (T2)

S3E03: Memory of a Memory (T2)

S3E13: From Bad to Worse (T2)

S6E04: The Tower (T2)

S7E25: Flute Spell (T2)

S6E10: Something Big (T2)

S6E38: You Forgot Your Floaties (T2)

S6E16: Joshua and Margaret Investigations (T2)

S9E01: The Wild Hunt (T2)

S6E01: Wake Up (T2)

S6E33: Jermaine (T2)

S5E42: James (T2)

S1E21: Donny (T2)

S1E18: Dungeon (T2)

S4E13: Princess Cookie (T2)

S5E13: The Great Bird Man (T2)

S5E08: Mystery Dungeon (T2)

S7E37: Daddy-Daughter Card Wars (T2)

S5E31: Too Old (T2)

S6E24: Evergreen (T2)

S6E25: Astral Plane (T2)

S8E26: Fionna and Cake and Fionna (T2)

S6E19: Is That You? (T2)

S5E23: One Last Job (T2)

S5E21: The Suitor (T2)

S5E33: Time Sandwich (T2)

S5E43: Root Beer Guy (T2)

S8E24: Abstract (T2)

S6E27: The Visitor (T2)

S7E31: I Am A Sword (T2)

S7E33: Normal Man (T2)

S8E07: Islands Part 1: The Invitation (T2)

S8E09: Islands Part 3: Mysterious Island (T2)

S6E29: Dark Purple (T2)

S6E26: Gold Stars (T2)

S1E12: Evicted! (T2)

S1E24: What Have You Done? (T2)

S3E17: Thank You (T2)

S1E16: Ocean of Fear (T3)

S8E10: Islands Part 4: Imaginary Resources (T3)

S8E18: Elements Part 3: Winter Light (T3)

S8E08: Islands Part 2: Whipple the Happy Dragon (T3)

S7E01: Bonnie and Neddy (T3)

S8E15: Orb (T3)

S7E03: Cherry Cream Soda (T3)

S6E28: The Mountain (T3)

S3E20: Holly Jolly Secrets Part 2 (T3)

S7E15: The More You Moe, The Moe You Know Part 2 (T3)

S7E14: The More You Moe, The Moe You Know Part 1 (T3)

S8E20: Elements Part 5: Slime Central (T3)

S7E28: Don't Look (T3)

S7E21: King's Ransom (T3)

S6E20: Jake The Brick (T3)

S7E16: Summer Showers (T3)

S6E21: Dentist (T3)

S3E25: Dad's Dungeon (T3)

S5E46: Rattleballs (T3)

S5E49: Bad Timing (T3)

S6E11: Little Brother (T3)

S6E15: Nemesis (T3)

S5E50: Lemonhope Part 1 (T3)

S2E17: Death in Bloom (T3)

S5E39: We Fixed a Truck (T3)

S1E07: Ricardio the Heart Guy (T3)

S1E02: Trouble in Lumpy Space (T3)

S1E19: The Duke (T3)

S1E25: His Hero (T3)

S4E08: Hug Wolf (T3)

S4E19: Lady & Peebles (T3)

S9E09: Blenanas (T3)

S7E17: Angel Face (T3)

S4E14: Card Wars (T3)

S5E40: Play Date (T3)

S7E32: Bun Bun (T3)

S9E02: Always BMO Closing (T3)

S5E41: The Pit (T3)

S5E10: Little Dude (T3)

S4E20: You Made Me (T3)

S5E09: All Your Fault (T3)

S4E10: Goliad (T3)

S2E26: Heat Signature (T3)

S8E03: Wheels (T3)

S6E30: The Dairy (T3)

S7E26: The Thin Yellow Line (T3)

S2E09: The Other Tarts (T3)

S3E24: Ghost Princess (T3)

S3E21: Marceline's Closet (T3)

S2E11: The Chamber of Frozen Blades (T3)

S4E09: Princess Monster Wife (T3)

S2E16: Guardians of Sunshine (T3)

S3E12: The Creeps (T3)

S4E06: Daddy's Little Monster (T3)

S5E38: Red Starved (T3)

S5E16: Puhoy (T3)

S3E15: No One Can Hear You (T3)

S5E06: Jake the Dad (T3)

S5E35: Love Games (T3)

S6E42: Hot Diggity Doom (T3)

S6E09: The Prince Who Wanted Everything (T3)

S7E20: Bad Jubies (T3)

S5E07: Davey (T3)

S2E12: Her Parents (T3)

S3E18: The New Frontier (T3)

S2E15: The Real You (T3)

S3E08: Wizard Battle (T3)

S5E45: Blade of Grass (T3)

S9E06: Ring of Fire (T3)

S4E18: King Worm (T3)

S9E03: Son of Rap Bear (T3)

S3E02: Morituri Te Salutamus (T3)

S6E36: Hoots (T3)

S6E39: Be Sweet (T3)

S6E40: Orgalorg (T3)

S6E35: Graybles 1000+ (T3)

S5E24: Another Five More Short Graybles (T3)

S4E02: Five Short Graybles (T3)

S5E03: Five More Short Graybles (T3)

S2E19: Mystery Train (T3)

S5E18: Princess Potluck (T3)

S5E19: James Baxter the Horse (T3)

S5E25: Candy Streets (T3)

S7E04: Mama Said (T3)

S4E17: BMO Noire (T3)

S2E13: The Pods (T3)

S5E52: Billy's Bucket List (T3)

S7E30: Lady Rainicorn of the Crystal Dimension (T3)

S7E05: Football (T3)

S5E17: BMO Lost (T3)

S5E22: The Party's Over, Isla de Señorita (T3)

S6E32: Friends Forever (T3)

S7E19: Blank-Eyed Girl (T3)

S1E08: Business Time (T3)

S1E15: What is Life? (T3)

S4E11: Beyond this Earthly Realm (T3)

S4E05: Return to the Nightosphere (T3)

S6E07: Food Chain (T3)

S7E29: Beyond the Grotto (T3)

S4E07: In Your Footsteps (T3)

S3E06: The Monster (T3)

S1E20: Freak City (T3)

S1E17: When Wedding Bells Thaw (T3)

S1E09: My Two Favorite People (T3)

S3E19: Holly Jolly Secrets Part 1 (T4)

S4E12: Gotcha! (T4)

S9E13: Diamonds and Lemons (T4)

S6E18: Everything's Jake (T4)

S5E36: Dungeon Train (T4)

S5E37: Box Prince (T4)

S1E26: The Gut Grinder (T4)

S1E23: Rainy Day Daydream (T4)

S1E01: Slumber Party Panic (T4)

S1E05: The Enchiridion! (T4)

S3E16: Jake vs Me-Mow (T4)

S3E04: Hitman (T4)

S6E41: On the Lam (T4)

S2E10: To Cut a Woman's Hair (T4)

S2E14: The Silent King (T4)

S8E04: High Strangeness (T4)

S7E18: President Porpoise Is Missing! (T4)

S8E05: Horse and Ball (T4)

S6E17: Ghost Fly (T4)

S6E31: Walnuts and Rain (T4)

S2E22: The Limit (T4)

S5E27: Jake Suit (T4)

S6E12: Ocarina (T4)

S3E22: Paper Pete (T4)

S2E21: Belly of the Beast (T4)

S4E24: Reign of Gunthers (T4)

S2E02: The Eyes (T4)

S2E07: Power Animal (T4)

S3E01: Conquest of Cuteness (T4)

S2E03: Loyalty to the King (T4)

S1E03: Prisoners of Love (T4)

S4E21: Who Would Win (T4)

S2E05: Storytelling (T4)

S5E05: All the Little People (T4)

S6E13: Thanks for the Crabapples, Giuseppe! (T4)

S6E34: Chips and Ice Cream (T4)

S1E11: Wizard (T4)

S1E06: The Jiggler (T4)

S1E04: Tree Trunks (T4)

S1E13: City of Thieves (T4)

S4E04: Dream of Love (T4)

S2E08: Crystals Have Power (T4)

S3E11: Apple Thief (T4)

S3E07: Still (T4)

S6E08: Furniture and Meat (T4)

S6E03: James II (T4)

S3E23: Another Way (T4)

S2E04: Blood Under the Skin (T4)

S1E10: Memories of Boom Boom Mountain (T4)

S4E23: The Hard Easy (T4)

S0: Pilot (T4)

S7E22: Scamps (T5)

S5E15: A Glitch is a Glitch (T5)

S6E37: Water Park Prank (T5)

S5E04: Up a Tree (T5)

S2E06: Slow Love (T5)

S6E05: Sad Face (T5)

S4E03: Web Weirdos (T5)

S1E14: The Witch's Garden (T5)
For more information about the series including a ranking of every song and short, follow this link to my Google Doc.
Also check out all the other coverage of the finale this week from Overly Animated and feel free to tell me how wrong I am in the comments, even though I'm entirely correct of course.