"The Robot Chicken Walking Dead Special" DVD Review
By: Dylan Hysen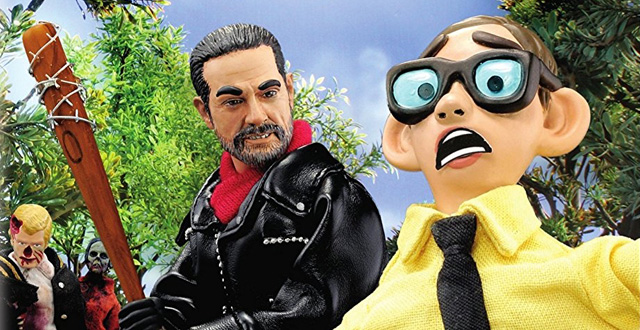 "The Robot Chicken Walking Dead Special" DVD is the first Robot Chicken DVD release in three years, featuring the very funny 2017 The Walking Dead parody special, "The Robot Chicken Walking Dead Special: Look Who's Walking." It's available in both DVD and Blu-ray and out on March 27. The special is a collaboration between the Robot Chicken team and Walking Dead executive producers Robert Kirkman and Scott M. Gimple, featuring basically the entire cast of The Walking Dead.
The DVD's presentation is fairly basic, although solid. The box art, disc, and menus feature art from the special. The options menu just features a subtitle option. The menus each feature songs from throughout the special, which are definitely a highlight. The standout "Welcome to Terminus" and others including "Do the Neagan" will also be part of a digital EP release on March 23.
The big draw of this DVD release has to be the extensive Special Features included. I was pretty blown way by the amount of them and how many of them are worthwhile. The highlights are definitely the two commentary tracks with the crew, the behind the scenes look at the origins of the special, and the deleted scenes. Here's a full listing of what's included:
"Inside Robot Chicken The Walking Dead: Look Who's Walking": A behind the scenes look with the crew at the origins of the special, the writing process, and the animation side.
"Cut Sketches": 8 short deleted scenes (6 animatics, 2 fully animated) with quick comments from the crew beforehand for each.
"Sketches to Die For": The crew gives their favorite sketches and characters.
"Bawkward": The crew does their versions of the robot chicken as a walker.
"Behind the Screams": Surprising the crew with a "real" walker during interviews with them. (This and the previous one are short, lighter features not intended to have a lot of substance.)

Commentary Track #1 with Matthew Senteich, Scott M. Gimple, Robert Kirkman, Tom Sheppard, and Seth Green

Commentary Track #2 with Seth Green, Josh McDermitt, Tom Root, and Tom Sheppard
With a Blu-ray version available and excellent special features including commentary tracks and deleted scenes, "The Robot Chicken Walking Dead Special" DVD is a must-have for Robot Chicken fans, and definitely worth checking out as well for Walking Dead fans who may not be familiar with the series.