Rick and Morty Season 3 Comes Home on Blu-ray & DVD May 15
By:


EXPERIENCE THE INTERGALACTIC MISADVENTURES OF
RICK AND MORTY: SEASON 3
Arriving on Blu-ray and DVD May 15, Featuring Exclusive Commentary, "Inside the Episode" and Animatics for All 10 Episodes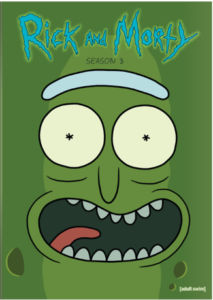 America's favorite crazy scientist returns when the newest season of the hit Adult Swim series Rick and Morty: Season 3 arrives on Blu-ray™ and DVD on May 15. From creators Dan Harmon (Community) and Justin Roiland (Adventure Time), the award-winning comedy features out-of-this-world antics, taking fans on a collection of intergalactic journeys across the multi-verse.
Featuring all ten episodes from the latest season, Rick and Morty: Season 3 boasts 220 minutes of outrageous animation and numerous never-before-seen bonus features including newly produced, exclusive commentary for all 10 episodes with special guest commentary from the show's voice talent such as Chris Parnell (Jerry) and stars like John Mayer.
The Rick and Morty: Season 3 Blu-ray™ and DVD release also includes exclusive animatics for every episode, giving viewers a glimpse into the creation of their favorite animated characters; "Inside the Episode" for each episode; the origins of Rick and Morty; and an exclusive "Inside the Recording Booth" session.
Rick and Morty: Season 3 special editions will be offered at both Best Buy and FYE; with Best Buy offering an exclusive Steelbook on Blu-ray™ only and FYE providing an exclusive series poster with purchase of either Blu-ray™ or DVD.
Rick and Morty: Season 3  10 x 22 MINUTE EPISODES:

| | |
| --- | --- |
| 1. Rickshank Redemption | 6. Rest and Ricklaxation |
| 2. Rickmancing the Stone | 7. The Ricklantis Mixup |
| 3. Pickle Rick | 8. Morty's Mind Blowers |
| 4. Vindicators 3: The Return of Worldender | 9. The ABC's of Beth |
| 5. The Whirly Dirly Conspiracy | 10. The Rickchurian Mortydate |
Special Features:
Exclusive Commentary for every episode including guest commentary from the show's voice talent such as Chris Parnell (Jerry) and celebrities like John Mayer
Exclusive Animatics for ALL 10 episodes
"Inside the Episode" for each episode
Origins of Rick and Morty
Exclusive "Inside the Recording Booth"