Last Week in Animation: December 4th
By: Alex Bonilla
Welcome to Overly Animated's Last Week in Animation! This is a recurring series where we aggregate the news items most relevant to fans of the shows we cover regularly, as well as interesting tidbits on other animated television and film projects.
Pilots Taking Off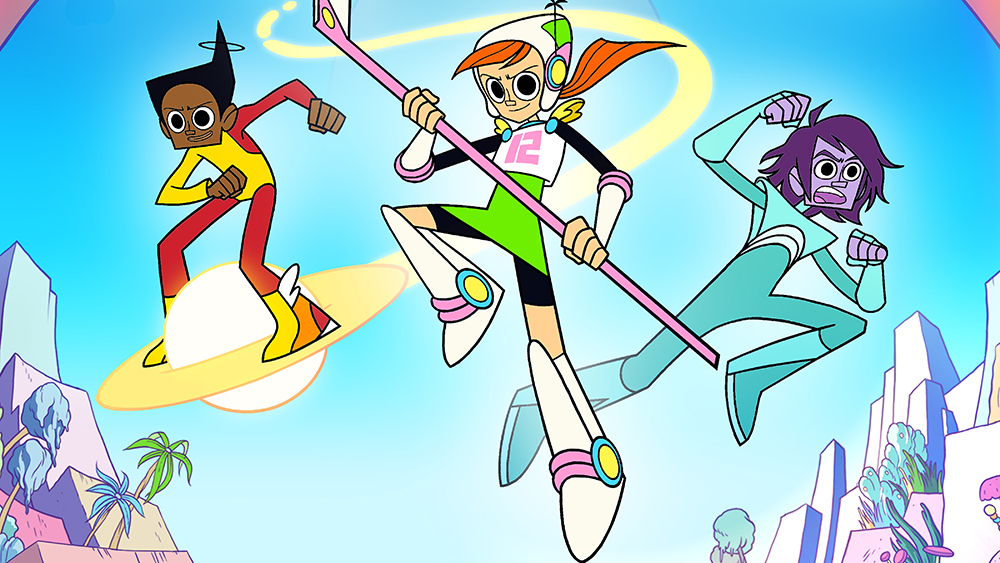 It was a busy week for the Cartoon Network pilot program, as one of its recent entries was greenlit and one was publicly released. In regards to the former, Twelve Forever has been picked up for a 26-episode run on Netflix. Twelve Forever was created by Julia Vickerman, former storyboarder on Yo Gabba Gabba! and the Powerpuff Girls reboot. The basic synopsis of the show is following a 12-year-old girl named Reggie who inhabits a fantasy world in which she doesn't have to grow up, therefore being able to play out superhero scenarios.
Other names associated with Twelve Forever are executive producers Chris Hardwick and Shadi Petosky. Petosky is the showrunner behind Danger and Eggs, which is notable for having a non-binary character. In line with this, there was a tweet (since deleted) by show writer Laura Zak that described Twelve Forever's protagonist as "queer". Twelve Forever is expected to premiere in 2019. [Variety]
Meanwhile, in terms of shows already greenlit, Craig of the Creek and Summer Camp Island got their full pilot episodes released on the Cartoon Network app over the weekend. Craig of the Creek is the creation of former Steven Universe writers Matt Burnett and Ben Levin. This show, which doesn't have a release date attached just yet, is notable for having a black protagonist, which is still an underrepresented demographic in children's animation. Summer Camp Island is the project of Julia Pott, who was last seen as a writer on Adventure Time. This would make Pott the second female showrunner ever on Cartoon Network, following Rebecca Sugar on Steven Universe. Summer Camp Island takes place in a more fantastical setting while Craig of the Creek takes a slightly more down-to-earth approach.
CocOscar Watch
Coco has racked up reams of critical acclaim since its premiere, but along with that has come severe panning of the Olaf's Frozen Adventure short playing before the Pixar film. Due to the negative PR, it's interesting that reports have come out that the Frozen short will officially be removed from showtimes of Coco on December 8. Disney representatives later clarified that the removal was always planned to be on that date, but many would have preferred the short be removed sooner. [Entertainment Weekly]
In relation to Coco, the film awards circuit is beginning to hit its stride, and animated films are starting to get their recognition. Coco has emerged as the clear favorite in most of these races, winning Best Animated Film at the National Board of Review and the New York Film Critics Circle. Meanwhile, the Los Angeles Film Critics Association awarded The Breadwinner, which is bound to have slightly better chances among the indie crowds. The National Board of Review also made a note to highlight Loving Vincent as one of the ten top independent movies of the year. [Animation Magazine, Entertainment Weekly, Variety]
A Twitter campaign has begun to reunite the voice actors of Justice League Unlimited in order to get a reunion film off the ground. The campaign began when an account with the handle @AnimatedJL claimed to have spoken with Susan Eisenberg, voice of Wonder Woman in the show, and voice director Andrea Romano. @AnimatedJL said that Eisenberg directed people who were interested in a reunion to let Warner Bros. Home Entertainment know by way of social media. Kevin Conroy (Batman), Michael Rosenbaum (The Flash), Phil Lamarr (Green Lantern) and Ken Shriner (Green Arrow) have also expressed their support of the campaign on Twitter. [CBR.com]
Speaking of Andrea Romano and Kevin Conroy, they are also involved with Animaniacs voice actor Rob Paulsen in a project being shopped around titled The Gang's All Here. The project is initially described as an adult animated depiction of a group of animal actors making their way in Hollywood, immediately bringing to mind the premise of Netflix's BoJack Horseman. This project would be notable given it promises Romano a recurring voice role; while she's been prolific as a voice director, she's only had spot appearances as a voice actress, such as an innkeeper in The Legend of Korra's "The Stakeout". [The Hollywood Reporter]
Other News and Notes
Batman Ninja. Not sure I need to say more than that, but a teaser has been publicly released for the upcoming anime, written by Kazuki Nakashima (Kill La Kill). The anime will come out some time in 2018.
Chris Pianka announced on Twitter that he has begun working on Steven Universe as a storyboard artist. Pianka has previously worked as a storyboard revisionist on Nickelodeon's Harvey Beaks, and has also done spot work on Adventure Time, Danger and Eggs and SpongeBob SquarePants among other shows.
Studio Ghibli confirmed that Goro Miyazaki, the son of the legendary Hayao Miyazaki, is working on a CG-animated film for the studio. Goro has directed two features so far: Tales from Earthsea in 2006 and From Up on Poppy Hill in 2011. This project seems to be separate from Hayao Miyazaki's upcoming hand-drawn feature Kimitachi wa do Ikiru ka (How Do You Guys Live?). [The Hollywood Reporter]
Titmouse and Conan O'Brien have joined on as executive producers on Barry and Joe: The Animated Series, an animated comedy series originally pitched by Adam Reid on Kickstarter. The series has already earned over $100,000 in pledges on the crowdfunding website after Reid presented the idea for a show following former presidential duo Barack Obama and Joe Biden engaging in time travel adventures together. In addition to having the Titmouse brand, the show has the backing of O'Brien, who has increasingly been getting into the animation field as well, putting his name behind the upcoming TBS series Final Space. [Animation World Network]
And finally, in this edition of Weird Animation of the Week, Fairly OddParents and Danny Phantom creator Butch Hartman released his take on the trailer for DC's recently released Justice League film, replacing classic superheroes with classic Nickelodeon characters. So yeah, if you ever need Jimmy Neutron and Danny Fenton working together, here's your best shot.