Last Week in Animation: September 25th
By: Alex Bonilla
Welcome to Overly Animated's Last Week in Animation! This is a recurring series where we aggregate the news items most relevant to fans of the shows we cover regularly, as well as interesting tidbits on other animated television and film projects.
BoJack Back In Act'
SO, THIS HAPPENED… pic.twitter.com/ZgRcG7anIF

— BoJack Horseman (@BoJackHorseman) September 21, 2017
Netflix's star animated comedy BoJack Horseman, whose fourth season we have analyzed to great extent on the Overly Animated Podcast, has received a renewal for a fifth season. The news was announced in a BoJack fashion, with a video of Mr. Horseman's phone receiving messages from "Clingy Netflix Exec" about the news. Later, Will Arnett, who voices the titular character of the show, posted a Twitter picture of the script for the fifth season's first episode, perhaps noting that this news was more a formal announcement to the public rather than anything meaningful to the crew. [Variety]
Meanwhile, in the SU Desert…
While we're in the middle of a drought as to new Steven Universe episodes, Cartoon Network has been producing an official podcast, which culminated last week with a Q&A episode with show creator Rebecca Sugar. While no news on a release date was forthcoming, Sugar did debut a new song, performed as a demo on her ukulele, titled "Escapism". It's a brief snippet of content, and provided with absolutely no context, but it's something to tide over the rabid fanbase for a brief moment.
The Teasing Corner
The Season 4 trailer for Voltron: Legendary Defender has come out, in preparation for the season's release date on Friday, October 13. It has since been confirmed that the fourth season will consist of six episodes, therefore making this the back half of season 3 according to production designations. The seven-episode third season, as Netflix considers it, has been out since August 4. [Den of Geek]
After some months of hype, we finally have our first trailer for Wes Anderson's latest foray into stop motion, Isle of Dogs. The trailer depicts a group of dogs who have been exiled to a dumping island having to deal with a Japanese child searching for his lost pet. This film marks Anderson's sophomore effort in the field after his similarly quirky Fantastic Mr. Fox, which came out in 2009. Isle of Dogs boasts a stacked voice cast including Bill Murray, Bryan Cranston, Edward Norton, Jeff Goldblum, Scarlett Johansson and Tilda Swinton. The film is currently slated to premiere in theaters on March 23, 2018.
Between this and The Emoji Movie, late night host James Corden is having an interesting run in voice acting… The first trailer for Sony Pictures' Peter Rabbit has come out, showing the classic children's book character as a bit of a "party animal". Domnhall Gleeson, Sam Neill, Margot Robbie and Daisy Ridley are also attached to the project. The film, directed by Will Gluck (Easy A), will premiere in theaters February 9, 2018.
Maya the Bee Spurs a Sexual Debate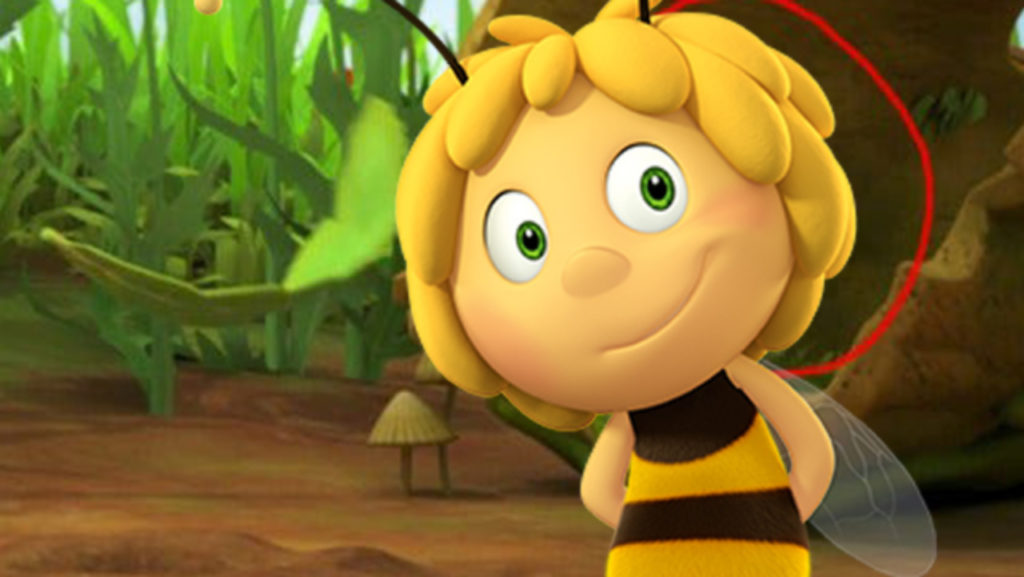 Of all the animated shows to go viral, you wouldn't have pegged the relatively harmless Netflix children's show Maya the Bee as a candidate. But such is the way of the Internet, as a concerned mother on Facebook posted a screenshot of a years-old episode that showed a faint drawing of a penis on a tree. Netflix had to take the offending episode down, and a couple of days after the Facebook post went viral, Studio 100 (the French company that produced the show) released a statement calling the image "absolutely inappropriate" and saying that they would try to determine the animator who produced the "very bad joke", as the statement called it. Managing director Katell France hedged some bets, however, in saying that the image could have been inserted by anyone in a 150-person process, so it would be "a complicated task" to uncover the identity of the drawer of the sexual organ. [Variety]
Other News and Notes
Trollhunters, Guillermo del Toro's animated Netflix series, has added Mark Hamill (Star Wars and many animated voice roles) and Lena Headey (Game of Thrones) to its roster for season 2. The cast was already stacked, with Kelsey Grammer, Ron Perlman and Anjelica Huston among the main characters. Trollhunters has been delayed because of the untimely death of lead voice Anton Yelchin, although it is believed that he recorded all of his Season 2 dialogue before passing away. While a date has not been announced, Netflix has stated that the second season will premiere in 2017. [Deadline Hollywood, Den of Geek]
The 2014 miniseries Over the Garden Wall still has its ardent fans, so creator Patrick McHale (Adventure Time) announced to applause the news of an official digital soundtrack being released. According to McHale's tumblr, the soundtrack is available on iTunes, Amazon and Spotify.
The LEGO Ninjago Movie, the only animated premiere at the box office, ended up third at the box office behind Kingsman: The Golden Circle and holdover It. The film is estimated to have earned $21.2 million over the weekend in the United States. For comparison, the last movie in this cinematic universe, The LEGO Batman Movie, opened to $53 million, although it was aiming for a wider audience than this particular property. [Deadline Hollywood]
DreamWorks Animation has announced a release date for the previously announced Spooky Jack, which is now scheduled to premiere in theaters on September 17, 2021. Spooky Jack, described so far as a horror-style animated film, will be the first animated venture for Jason Blum, well-known for producing low-budget, high-profit horror films, such as 2017 hits Split and Get Out. [Animation World Network]
And finally, in this edition of Weird Animation of the Week, here's a clip of Steve Buscemi's character from the recently released Jaden Smith/Ezra Koenig anime Neo Yokio. I believe that's enough context for you to take in the insanity.
let me show you why Neo Yokio is the greatest anime ever XD pic.twitter.com/HDWDXOXJOV

— SᴜᴘᴇʀTᴜʀʙᴏ sleuthgod (@armonte) September 22, 2017