Little Witch Academia (2013) Review: The One That Started It All
By: Steve Zec
With the first half of the Little Witch Academia anime coming to Netflix on June 30th, I thought now would be a good time to do a recap of the underground little engine that could short film that started it all, the 2013 Little Witch Academia short film. In the past I have done an article on the overall history of Little Witch Academia, you can read about that there.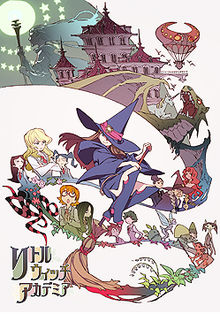 To recap, the Little Witch Academia film was released as short film submitted by Studio Trigger on March 2, 2013 for the Young Animator Training Project's Anime Mirai. It was released in theaters in Japan, then later released internationally on forums like YouTube and Crunchyroll. It quickly caught fire especially among anime fans in the West.
Let's get to the film itself and my thoughts. It has beautiful animation despite its low budget. You can clearly see a lot of effort was put into this in both animation and with the writing.
The story is about a world in which witches exist and the young witches including our main heroine Atsuko Kagari, nicknamed Akko, attend a witch school called Luna Nova. Along with Akko are her two friends and roommates Lotte Jansson and Sucy Manbavaran, as well as Akko's nemesis and top student at Luna Nova Diana Cavendish, who comes from a noble witch family that is well respected (the opposite of Akko who comes from a non-witch family).
The backstory is when Akko was a little girl she attended a show by witch entertainer Shiny Chariot, which inspired her to become a witch. Unfortunately for Akko, Shinny Chariot is looked down and frowned upon by the witch community and most notably by Diana and her friends, which is the center of why Akko and Diana do not get along. Also Akko can not fly unlike the other witches which makes her the laughing stock of Luna Nova.
The main plot here is professor Ursula has assigned the class to explore a dungeon and find treasure, breaking the class up into teams of three, which for Akko is herself, Lotte, and Sucy. Along the way Akko finds an object from Chariot's past called the Shiny Rod and it becomes her own broomstick. Meanwhile, Diana accidentally revives a dragon which threatens everyone's lives, but everyone is able to pull together and defeat the dragon and make it out alive. At the end we find out professor Ursula might just be Shiny Chariot, and we also find out Diana is a closet Chariot fan. If you look in the opening flashback, you see a young Diana was at the same Shining Chariot show Akko was.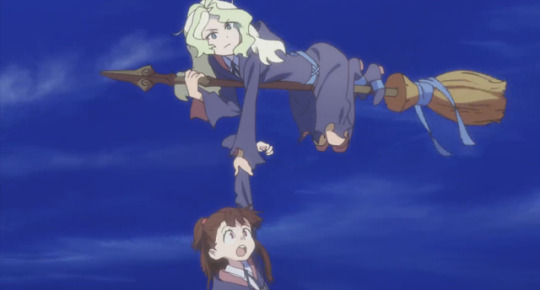 It was a great 26 minutes of entertainment. Akko is a great main character, and reminds me a lot of Star Butterfly. Diana is a great character too; I like that despite her linage she actually works hard at her craft and doesn't just rely on being a Cavendish to get through life, which she could easily have done. That is what separates Diana from the likes of Draco Malfoy and Ethel Hallow. But my favorite character has to be Sucy: she is hilarious, she specializes in poison magic, and boy she loves to test her potions on Akko.
This is the very first media of the Little Witch Academia franchise, so keep in mind some characters might be a little out of character compared to how they are in other incarnations; the creators are working out the kinks of these characters. For example in this film Diana said, "witches should be feared." I could never imagine the Diana I know from the sequel movie, or the anime series ever saying that. But the creators are learning about their characters. Like in the Steven Universe pilot, Pearl made fun of Steven and called him a clown. Could we ever imagine our Pearl doing that? I know I can't, but that is what happens when you slowly learning about your characters from the creative process.
I really like this film and strongly recommend it for everyone check it out. While I think the anime series is better and their version of characters like Akko and Diana are better, it is still an enjoyable film. If I didn't like the film, I would not have seen the sequel 2015 Little Witch Academia: Enchanted Parade or the 2017 anime series which is its own canon from the short films.
I do feel Little Witch Academia could be on the verge of hitting it big on Netflix and with the anime being released on June 30th, it is great to look back at its humble beginnings. The 2013 Little Witch Academia short film is available on Netflix in many languages, so check it out. Have a magical day and dokidoki no wakuwaku.