Last Week in Animation: June 19th
By: Alex Bonilla
Welcome to Overly Animated's Last Week in Animation! This is a recurring series where we aggregate the news items most relevant to fans of the shows we cover regularly, as well as interesting tidbits on other animated television and film projects.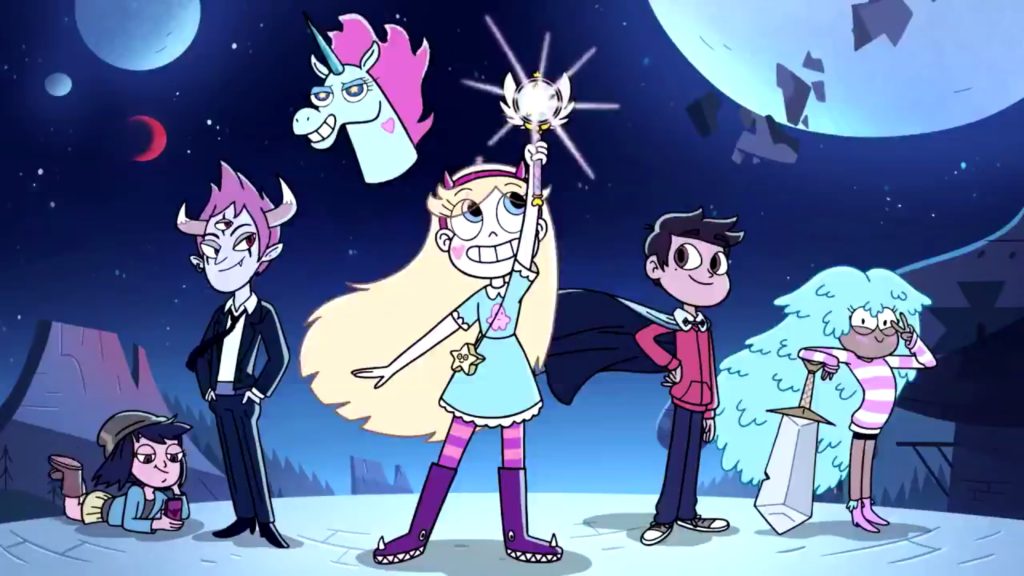 A Fallen Star
Giancarlo Volpe, well known among Overly Animated readers for his storyboarding and directorial work on Avatar: The Last Airbender, has announced his departure from the crew of Disney XD's Star Vs. The Forces of Evil. Volpe's involvement in Season 2 of the magical princess show was a factor in getting the attention of some people hesitant to buy in to the show's increasingly good reputation early on, myself included. According to Volpe, he was still involved in the "Battle for Mewni" event and the first couple of episodes of the upcoming third season. He only divulged that he was leaving for a friend's project. You did good work with this show, Mr. Volpe. [Twitter]
In other Star vs. news, the show released their new intro, as well as an additional TV promo for the upcoming third season. You can listen to our dissection of the new intro on our latest Star vs. roundtable podcast.
Other Promotional Material
Disney is ramping up promotion for their DuckTales reboot, announcing that the show will premiere with a one-hour TV movie on Saturday, August 12. You don't have to worry too much about premiere time, as Disney XD plans to air it for 24 hours straight. After that, the first two normal-length episodes will premiere on Disney XD on September 23. In addition to that news, Disney released the intro, which is an updated version of the theme song 80s kids were acquainted with. [Entertainment Weekly]
Steven Universe Soundtrack: Volume 1, after being released digitally on June 2nd, debuted at #22 on the June 13th edition of the Billboard 200. Soundtracks of original music for an animated show are very rare, although this soundtrack was beaten out by May's The Bob's Burgers Music Album, which debuted at #21 on the same chart. [The Geekiary]
The popular anime Attack on Titan aired its final episode of season 2 on June 17, and surprised its fans with an ending announcement that season 3 would begin some time in 2018. After the first season finale in 2013, fans had to wait four years for the premiere of the second season, so this is unexpected news for fans who were worried about a similar-length hiatus. [Crunchyroll]
The Experimental Corner
Cartoon Network announced an upcoming partnership between The Amazing World of Gumball and Baker Terry, one of the creators behind the popular YouTube series Don't Hug Me I'm Scared. Terry will work with the Gumball crew to create a puppet-based episode of the show, along with several shorts. Gumball has been known to be one of Cartoon Network's more experimental programs when it comes to animation styles, so this is par for the course for the show. [Variety]
Loving Vincent, the first feature film to be entirely animated using oil painting on canvas, won the Audience Award at this year's Annecy Animation Festival in France. There have been short films in the past that experimented with this style, including the Oscar-winning 1999 short The Old Man and the Sea, but this partially Kickstarter-funded project is the most ambitious form of bringing Vincent van Gogh's style to life on a big screen. No theatrical release dates have been announced yet. Other films that made waves at the festival included the Japanese feature Lu Over the Wall, which won the festival's highest overall award, and the U.S.-Spain joint venture Animal Crackers, which somehow got Ian McKellen, Emily Blunt and Sylvester Stallone involved. [Variety]
Other News and Notes
Cars 3, Pixar's latest feature, debuted at #1 in the box office, but made slightly less in its opening domestic weekend than Cars or even Cars 2. Early reports say it opened to $53.5 million, which knocks Wonder Woman out of the top spot; the DCCU flick still got a nice $40.8 million in its third weekend. [Hollywood Reporter]
Another piece of news from the Annecy Festival came from Reel FX Animation Studios' panel, where it was announced that a sequel to 2014's The Book of Life has been greenlit, with the confirmed involvement of the original film's director, Jorge Gutierrez. This is interesting timing, as The Book of Life had gotten mentioned more often in film circles recently because of Pixar's promotion of their Day of the Dead-inspired film Coco. [ScreenRant]
In the latest case of animation keying in on niche nostalgia, Sony is in talks to develop a CG-animated television series based on the video game series Sly Cooper, which first appeared in 2002. Sony has tried to get the franchise in other media since 2012, when reports of a film leaked; film talks were later abandoned by 2016. [Animation Magazine]
While not giving many details on how this was even possible, director James Gunn confirmed that the first cut of 2002's Scooby-Doo, which brought the animated classic to a live-action/CGI framework, originally earned an R rating. Ruh-roh. [Entertainment Weekly]
And finally, in this edition of Weird Animation of the Week, another fallow period (please feel free to send any new weird animations you find), so I'm resorting to posting the latest edition of one of my favorite YouTube Poop series, using the latest Steven Universe episodes.