RWBY's Volume 2 Has Constant Thrills, Intrigue
By: Dylan Hysen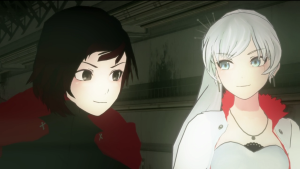 Viewing media in different ways is always an interesting experience, interesting seeing how your opinions differ depending on the way you consume it. I watched RWBY Volume 2 week-to-week last year, and wasn't sure what to expect going into my rewatch of it today. When I viewed it as each chapter came out I was more concerned with anticipating the direction of the plot and the episodes in general. Viewing it all at once, I got a great sense of how consistent this season was, providing constant intriguing plot and action elements.
Volume 2 improved upon Volume 1 in a lot of ways. Casting exposition to the side, this season fit in many more big action pieces and plot developments, and all of them were successful. From the sequence after the White Fang meeting in Chapter 4 to Cinder during the Dance in Chapter 7 to the extended action sequences on the train and afterwards in Chapters 11 and 12, this Volume packed in a ton of memorable fights and big plot moments. Everything in Chapter 12 in particular was breathtaking and almost rivaled the Emerald Forest for me.
In between there were a lot of great character moments that built upon the incredibly solid expositional foundation that Volume 1 provided. Yang and Blake's talk in Chapter 6 and Oobleck's questioning of each member of team RWBY's motivations for becoming huntresses stand out to me. There were less of these excellent character moments than in Volume 1 though, a consequence of pushing quieter moments to the side in favor of bigger ones, and as a result I find Volume 2 to be less intimate than Volume 1, even if it is more exciting.
Volume 2 also overextends itself once again. We get a multitude of new side characters which distract the attention of the show away from our core cast. Neopolitan has a very cool design and her fight with Yang was great, but there's already a growing number of villains we know very little about to keep track of. The members of team CFVY seem really awesome, especially Coco whose action piece in the final chapter was so, so incredible, but there's already a secondary team in JNPR we don't spend enough time with. Raven's appearance at the end was very intriguing, but with no explanation given it was fairly nonsensical. 
These flaws though are minor overall. RWBY will probably always be a show that tries to do too much and errs on the side of big moments over quiet ones. I still thoroughly enjoyed Volume 2 as it was airing, and again now having rewatched it all at once. Its great consistency makes for an excellent season of animation, and probably gives it the edge over Volume 1.
We will be covering RWBY's Volume 3 with weekly podcast when it premieres publicly on Sunday October 25th.