STEVEN UNIVERSE: The Complete First Season DVD Arrives 1/30
By: Dylan Hysen
RELIVE THE FIRST FULL SEASON OF STEVEN UNIVERSE CARTOON NETWORK'S EMMY-NOMINATED SERIES  ON JANUARY 30
Four-Disc Set Loaded With Exclusive Bonus Content Including Behind-the-Scenes Commentary With Series Creator Rebecca Sugar, Never-Before-Seen Music Videos And Special Recording From Volume One Soundtrack Listening Party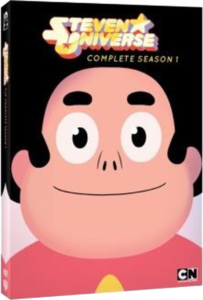 Fans can revisit the adventures of Steven Universe, Cartoon Network's Emmy nominated and critically acclaimed animated series when Steven Universe: The Complete First Season DVD arrives on January 30, 2018. Featuring all 52 captivating episodes and the first time a full season has been available on DVD, relive the episodes that ignited a fierce and dedicated fandom.
With 572 minutes of lauded animation, Steven Universe: The Complete First Season delivers bonus features including a never-before-seen intimate conversation with series creator, Emmy and Annie Award-nominated writer and New York Times bestselling author Rebecca Sugar, discussing the show's celebrated music, chart-topping soundtracks, performance videos and footage from the Steven Universe Soundtrack Volume 1 listening party. Steven Universe: The Complete First Season will retail for $24.98 SRP.
Steven Universe is set in Beach City on the American East Coast, where the four Crystal Gems live in an ancient beachside temple, protecting the world from evil. As immortal alien warriors, they project female humanoid forms from magical gems that are the core of their being. The Crystal Gems are Garnet, Amethyst, Pearl and Steven, a young half-human, half-Gem boy who inherited the gem of his mother Rose Quartz, the former leader of the Crystal Gems. As Steven tries to figure out his powers, he spends his days with his human father Greg, his friend Connie or the other Gems, whether to help them save the world or just to hang out. He explores the abilities passed down to him by his mother, which include fusion – the ability of two Gems to temporarily merge their identities and bodies to form a distinct new personality.
As Cartoon Network's most engaged property on social media, the empathetic and inclusive themes of Steven Universe resonate deeply with fans, garnering a massive following across a multitude of demographics. Receiving high acclaim from critics for its art, music, voice performances, storytelling and characterization, the series has been nominated for three Primetime Emmy Awards, five Annie Awards, a GLAAD Media Award, a Kids' Choice Award and two Teen Choice Awards.
Steven Universe: The Complete First Season
52 x 11 MINUTE EPISODES:
| | | | |
| --- | --- | --- | --- |
| 1. | Gem Glow | 27. | House Guest |
| 2. | Laser Light Cannon | 28. | Space Race |
| 3. | Cheeseburger Backpack | 29. | Secret Team |
| 4. | Together Breakfast | 30. | Island Adventures |
| 5. | Frybo | 31. | Keep Beach City Weird! |
| 6. | Cat Fingers | 32. | Fusion Cuisine |
| 7. | Bubble Buddies | 33. | Garnet's Universe |
| 8. | Serious Steven | 34. | Watermelon Steven |
| 9. | Tiger Millionaire | 35. | Lion 3: Straight to Video |
| 10. | Steven's Lion | 36. | Alone Together |
| 11. | Arcade Mania | 37. | Warp Tour |
| 12. | Giant Woman | 38. | The Test |
| 13. | So Many Birthdays | 39. | Future Vision |
| 14. | Lars and the Cool Kids | 40. | On the Run |
| 15. | Onion Trade | 41. | Horror Club |
| 16. | Steven the Sword Fighter | 42. | Winter Forecast |
| 17. | Lion 2: The Movie | 43. | Maximum Capacity |
| 18. | Beach Party | 44. | Marble Madness |
| 19. | Rose's Room | 45. | Rose's Scabbard |
| 20. | Coach Steven | 46. | Open Book |
| 21. | Joking Victim | 47. | The Message |
| 22. | Steven and the Stevens | 48. | Political Power |
| 23. | Monster Buddies | 49. | The Return |
| 24. | An Indirect Kiss | 50. | Jail Break |
| 25. | Mirror Gem | 51. | Full Disclosure |
| 26. | Ocean Gem | 52. | Joy Ride |
Special Features
Inside the Music Featurette
Animatics
Song Demos
Commentaries
Exclusive Live Performance